By Mabel Pais
MARTIN LUTHER KING, JR. WEEKEND (January 14-18, 2021)
Festival promotes Social Action and Positive Change through Films, Special Events, and Conversations to Celebrate the Legacy of Dr. King
GEETA GANDBHIR'S 'HUNGRY TO LEARN'
In Film Slate
"As we observe the Martin Luther King Day weekend, we're proud to support a film festival that seeks to bend our attention to the vision of a more just and equitable world." – Anne del Castillo: Commissioner, – NYC Mayor's Office / Media and Entertainment
"When we launched Cinematters: NY Social Justice Film Festival in January 2020, we were blown away by participants' passion for some of today's most pressing issues," – Isaac Zablocki, Director: The Carole Zabar Center for Film, Marlene Meyerson JCC Manhattan
The 2nd Annual Cinematters: NY Social Justice Film Festival, in collaboration with the Marlene Meyerson JCC Manhattan announces the lineup for the Fest, which runs virtually January 14-18, 2021.
"The 'Black Lives Matter' movement and the resulting conversations around ending systemic racism have reaffirmed the crucial need for events such as this, which create an opportunity to learn, discuss, and advocate as a community for a better future," said Isaac Zablocki.
  Building on the success of the inaugural event and national conversations around racial and social justice this year, the festival will present impactful films and conversations exploring inequality, injustice, advocacy, and social responsibility through the lens of issues such as racial discrimination, LGTBQIA+ rights, environmental justice, immigrants' rights, women's rights, and religious intolerance.
Cinematters: NY Social Justice Film Festival Screening Lineup:
OPENING NIGHT
MLK/FBI
Dir: Sam Pollard l USA l 2020 l Doc l 1h 44m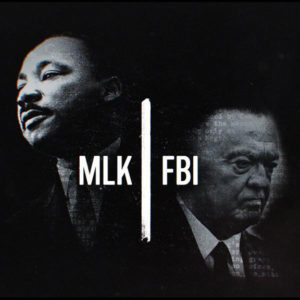 Martin Luther King/J. Edgar Hoover (Photo / DOC NYC 2020)
'MLK/FBI,' is the highly anticipated film and screened before its official release date January 15. Based on newly declassified files, Pollard's resonant film explores FBI director J. Edgar Hoover's relentless campaign of surveillance and harassment against Martin Luther King, Jr.  Today, when Dr. King is celebrated across political spectrums as a moral hero, it's jolting to confront the years when US agents targeted him as a villain. Inspired by the work of historian David Garrow, the film uses recently declassified files to study the FBI's motives and methods. A Q&A with Sam Pollard, follows.
CLOSING NIGHT
JOHN LEWIS: GOOD TROUBLE
Dir: Dawn Porter l USA l 2020 l Doc l 1h 36m
'John Lewis: Good Trouble' chronicles the life and career of the legendary civil rights activist and Democratic Representative from Georgia, John Lewis.  The film is a tribute to one of Dr. King's peers and fellow civil rights activists. It explores the 60-plus years of John Lewis' social activism and legislative action on civil rights, voting rights, gun control, health care reform, and immigration, leaving viewers—and the festival as a whole—with the urgent message that we must act now for a better, more just tomorrow.
SHORTS
HIGH SCORE
DIRS: Serena Ryen & Ethan Itzkow l USA l 2020 l Narr l 16m
After a young man is fired from his job as a result of his casually offensive behavior, he finds the perfect people to blame: minorities. Newly inspired by the white supremacist ideology of the "Great Replacement" conspiracy theory, we watch as he sinks into the darkest pits of the internet and takes the ideas he finds there as his own. View the trailer youtu.be/oLMlf07xufk
IMAGINING THE INDIAN
DIRS: Aviva Kempner & Ben West l USA l 2020 l Doc l NYC Premiere l 22m
'Imagining the Indian' examines the ongoing movement surrounding the use of Native American names, logos, and mascots in the world of sports and beyond. Learn more at imaginingtheindianfilm.org
 THE SACRIFICE ZONE
DIR: JULIE WINOKUR l USA l 2020 l Narr Doc l 32m
'The Sacrifice Zone' refers to The Ironbound district of Newark, New Jersey, which is one of the most toxic neighborhoods in the country. Maria Lopez-Nuñez, a Honduran-American resident there, is waging a war for environmental justice. She is part of the Ironbound Community Corporation, one of the most effective environmental justice organizations in the country. The film follows Maria as she leads a group of environmental justice fighters determined to break the cycle of poor communities of color serving as dumping grounds for our consumer society.
Watch the trailer player.vimeo.com/video/471460408?
Learn more at thesacrificezone.org
FEATURES
HUNGRY TO LEARN
DIR: GEETA GANDBHIR l USA l 2020 l Doc l 1h 25m
'Hungry To Learn,' by director Geeta Gandbhir is a poignant film about youth and food insecurity. It is the story of three American college students and a professor facing up to the painful reality that college tuition has gotten so high that some students can't afford to pay it and also eat. This film explains how we got here and the high price paid on campuses around the country. To learn more, visit soledadobrienproductions.com/hungerfilm
SPECIAL PRESENTATION
ONE NIGHT IN MIAMI
DIR: REGINA KING l USA l 2020 l Narrative l 1h 54m
'One Night in Miami' is a special presentation of Oscar-winning actor Regina King's directorial narrative feature debut. A fictional account of one incredible night where icons Muhammad Ali, Malcolm X, Sam Cooke, and Jim Brown gathered to discuss their roles in the civil rights movement and cultural upheaval of the '60s.
NEVERTHELESS
DIR: Sarah Moshman l USA l 2020 l Doc l 1h 19m
'NEVERTHELESS,' takes a look behind the headlines of #MeToo and Time's Up, 'Nevertheless' follows the intimate stories of seven individuals who have experienced sexual harassment in the workplace or in a school context. Co-presented by Film Fatales.
MISSING IN BROOKS COUNTY
DIRS: LISA MOLOMOT & JEFF BERNISS l USA l 2020 l Doc l 1h 21m
The epicenter for migrant deaths in the United States isn't on the border—it's in Brooks County, Texas, 70 miles north of the Rio Grande. Two families arrive here to search for their missing loved ones and find a haunted land and very few answers. To learn more, visit missinginbrookscounty.com
BREAKING FAST
DIR: Mike Mosallam l USA l 2020 l Narr l 1h 32m
'Breaking Fast' is a romantic comedy that follows Mo, a practicing Muslim still reeling from heartbreak. The film is set against the twinkling lights of West Hollywood. When the all-American Kal offers to join Mo in his nightly Iftars (the traditional meal eaten by Muslims during Ramadan), the two start to discover that they have more in common than meets the eye.
THE CONDOR & THE EAGLE
DIRS: Sophie Guerra & Clement Guerra l USA l 2019 l Doc l 1h 30m
'The Condor & The Eagle' features Indigenous leaders deploying unparalleled global response and takes us on an adventure to unite the peoples of the Americas and deepen the meaning of "justice" while learning from each other's long legacy of resistance to colonialism and its extractive economy. To learn more, visit thecondorandtheeagle.com
LOS HERMANOS / THE BROTHERS – Divided by Politics. United by Music
DIRS: Marcia Jarmel & Ken Schneider l USA l 2020 l Doc l 1h 24m
'Los Hermanos' is a film about virtuoso Afro-Cuban-born brothers—violinist Ilmar and pianist Aldo who live on opposite sides of a geopolitical chasm a half-century wide. Tracking their parallel lives in New York and Havana, their poignant reunion, and their momentous first performances together, this film offers a nuanced, often startling view of estranged nations through the lens of music and family.
Listen to Aldo Lopez Gavilian play the piano at youtu.be/rMgHMPZ9l7Y
Listen to "Pan con Timba" by Aldo Lopez-Gavilan (with violinist Ilmar) and the Harlem Quartet at youtu.be/SdiGXL9FeFk
To learn more, visit hermanosbrothersfilm.info 
BLACK BOYS
DIR: Sonia Lowman l USA l 2020 l Doc l 1h 35m
'Black Boys,' a film for this historic moment, exposes the dehumanization of Black males in America at the intersection of sports, education, and criminal justice in a nation still struggling to rectify its past.
SHARED LEGACIES
DIR: Shari Rogers l USA l 2020 l Doc l 1h 35m
In 'Shared Legacies,' the crucial historical lessons of Black-Jewish cooperation are revisited and revived in this utterly fascinating and urgent call to action. Common cause was found in the turbulent '60s Civil Rights era, as Jewish leaders backed Dr. King's efforts at racial equality and harmony. Yet, the relationship has frayed in recent years, as a once mighty bond of support and respect has seemingly faded, been forgotten or ignored. Shared Legacies is a collaboration between the Marlene Meyerson JCC Manhattan, the Jewish Museum, and Film at Lincoln Center.
TICKETS
The early bird full festival pass that includes access to all conversations and films, can be streamed on demand during the event. Tickets for individual screenings are also available.
For more information, up-to-date schedule, speaker information and tickets, visit cinematters.film
About Cinematters: NY Social Justice Film Festival
The Marlene Meyerson JCC Manhattan's Cinematters: NY Social Justice Film Festival presents impactful films that engage the community toward a more democratic, inclusive, and just society. In the spirit of Dr. King's legacy, the Center's goal is to promote social action that leads to positive change in our society and beyond. For updates and more information, visit mmjccm.org/arts-film/film/cinematters
About The Carole Zabar Center for Film
The JCC's film program showcases films that promote change and examine important topics. The Center hosts four film festivals: The ReelAbilities Film Festival: New York, The Other Israel Film Festival, the Israel Film Center Festival, and the Cinematters: NY Social Justice Film Festival. To learn more, visit mmjccm.org/node/8331
About The Joseph Stern Center for Social Responsibility
The Joseph Stern Center for Social Responsibility educates, inspires, and empowers people to work toward a better and fairer world through learning, volunteering, and activism. To learn more, visit mmjccm.org/node/8326
About the Marlene Meyerson JCC Manhattan
Together with its community, the Marlene Meyerson JCC Manhattan creates opportunities for people to connect, grow, and learn within an ever-changing landscape. The cornerstone of progressive programming in Manhattan, the JCC has been committed to serving the community by offering programs, classes, and events that reach beyond neighborhood boundaries, reaching people at all stages of their lives. Learn more at mmjccm.org
(Mabel Pais writes on Social Issues, The Arts and Entertainment, Spirituality, and Health & Wellness)