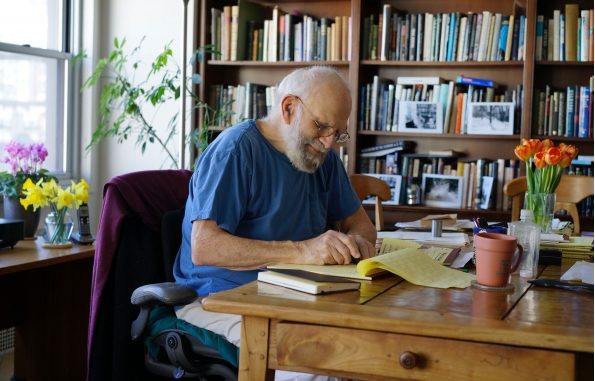 By Mabel Pais
The ReelAbilities Film Festival 2020 (RFFNY2020) had its virtual run, March 31 to April 6th. The virtual schedule is available at reelabilities.org/newyork
The following are highlights of some of the films screened….
 OLIVER SACKS: HIS OWN LIFE
DIR. RIC BURNS | US | 115 MIN | DOCUMENTARY
The riveting and profoundly moving life and work of Oliver Sacks, who redefined our 21st-century understanding of the brain and mind.
"A sentient being on this beautiful planet." – (of himself) Oliver Sacks, neurologist, author, storyteller
"Oliver Sacks: His Own Life" explores the life and work of the legendary neurologist and storyteller, as he shares intimate details of his battles with drug addiction, homophobia, and a medical establishment that accepted his work only decades after the fact. Sacks was a fearless explorer of unknown mental worlds who helped redefine our understanding of the brain and mind, the diversity of human experience, and our shared humanity.
On January 15th, 2015, a few weeks after completing his autobiographical memoir, the writer and neurologist Oliver Sacks learned that the rare form of cancer for which he had been treated nine years earlier had returned and that he had only a few months to live. A few weeks later, he sat down with Ric Burns for a series of marathon filmed interviews in his apartment in New York. For eighty hours, between February and June – surrounded by family and friends, books and minerals, notebooks from six decades of thinking and writing about the brain – he talked about his life and work, his dreams and fears, his abiding sense of wonder at the natural world, and the place of human beings within it. He spoke with astonishing candor and clear-sightedness, a profoundly gifted 81-year-old man facing death with remarkable courage and vitality while facing the end. He was determined to come to grips with what his life has meant and what it means to be, as he put it, "a sentient being on this beautiful planet."
Drawing on these riveting and profoundly moving reflections, Oliver Sacks: His Own Life also features deeply revealing and personal interviews with family members, colleagues, patients and close friends. It is in part the biography of an extraordinary physician and writer who was dogged by his own neuroses and by the rejection of his medical colleagues but nonetheless redefined for millions of readers the nature of the human mind, through the simple act of telling profoundly compassionate stories. It is also a deeply illuminating exploration of the science of human consciousness and the nature of subjectivity, and a meditation on the deep and intimate relation between art and science and storytelling.
To view a video clip of the film, visit https://youtu.be/64PHLhAVnf4
For updates on release dates of the film, visit
https://zeitgeistfilms.com/film/oliversackshisownlife#playdates
CODE OF THE FREAKS, 
OPENING NIGHT
DIR. SALOME CHASNOFF | US | 68 MIN | DOCUMENTARY
A scene from "Code Of The Freaks"
Photo / Courtesy RFFNY-2020/CavuPictures.com
Offend One, And You Offend Them All
Taking its title ("Code Of The Freaks") from Tod Browning's 1932 classic film, "Freaks," this radical re-framing of how characters with disabilities are represented looks at a century of Hollywood favorites with a fresh perspective. Disability activists imagine a cinematic landscape that takes people with disabilities seriously.
"Code of the Freaks" presents a radical re-framing of the use of disabled characters in film. From "The Fake Beggar" (1895), "Of Mice and Men" (1939) and "Whatever Happened to Baby Jane" (1962) to more contemporary films like "Million Dollar Baby," "Forrest Gump," "Avatar," "Fences" and "Me Before You," Hollywood continues to crank out all the old disability clichés and hollow inspirational narratives – what disability activists call "inspiration porn" – that carry actors straight to the Oscars. "Code of the Freaks" counters these formulaic entertainments with a powerful corrective: it dares to imagine a cinematic landscape that centers the voices of disabled people.
"Code of the Freaks" is well timed to intervene in an emerging international conversation about inclusion and representation. Social media has elevated the disability community's critique of Hollywood's casting decisions and exclusion of disabled people from the industry. "Code of the Freaks" extends the conversation beyond the largely superficial issue of casting to the stories themselves.
In addition to better known voices, "Code of the Freaks" showcases totally new on-the- ground disability activists and educators to advance a compelling argument: when it comes to disability onscreen, whether the fate of the disabled character is a miracle cure, institutionalization, death, or "overcoming," it's all aimed at inspiring a mainstream audience.
SOCIAL MEDIA
Website (in development): http://codeofthefreaks.com
Facebook: https://www.facebook.com/CodeOfTheFreaks/
Twitter: https://twitter.com/CodeOfTheFreaks
For updates on release dates of the film, visit https://www.codeofthefreaks.com/screenings-1
BEDLAM
CLOSING NIGHT
DIR. KENNETH PAUL ROSENBERG | US | 86 MIN | DOCUMENTARY
"Bedlam" book cover
Photo / Courtesy RFFNY-2020/CavuPictures.com
An Intimate Journey Into America's Mental Health Crisis
"BEDLAM" is a feature-length documentary, through intimate stories of patients, families, and medical providers, that immerses us in the national crisis surrounding care of the seriously mentally ill.
 Filmed over five years, it brings us inside one of America's busiest psychiatric emergency rooms, into jails where psychiatric patients are warehoused, and to the homes – and homeless encampments – of mentally ill members of our communities, where silence and shame often compound personal suffering. The story is told in part by director Kenneth Paul Rosenberg, MD, a psychiatrist, filmmaker and whose own life journey has been profoundly impacted by a seriously mentally ill family member.
Among others, featured in the film is Patrisse Cullors, co-founder of 'Black Lives Matter,' and her brother Monte, a victim and survivor of this very broken system. "BEDLAM" premiered to standing ovations at the 2019 Sundance Film Festival and will have its broadcast premiere on PBS's Independent Lens in April 2020 and is now available to stream online at (until May 13th): https://www.pbs.org/independentlens/videos/bedlam/
About ReelAbilities Film Festival: New York
ReelAbilities Film Festival is the largest film festival in the world dedicated to promoting awareness and appreciation of the lives, stories, and artistic expressions of people with disabilities. Founded in New York in 2007 by the Marlene Meyerson JCC Manhattan, the festival presents award-winning films by and about people with disabilities. Post-screening discussions and other engaging programs bring communities virtually together to explore, discuss, embrace, and celebrate the diversity of our shared human experience. The New York festival is the launching pad for an international program and its selections run satellite ReelAbilities festivals in over 20 cities worldwide. Learn more at reelabilities.org/newyork
About the Marlene Meyerson JCC Manhattan
Together with its community, the Marlene Meyerson JCC Manhattan creates opportunities for people to connect, grow, and learn with progressive programming within an ever-changing Jewish landscape. The JCC events extend beyond neighborhood boundaries, reaching people at all stages of their lives. Learn more at jcc manhattan.org.
(Mabel Pais writes on Social Issues, The Arts and Entertainment, Health & Wellness, and Spirituality)