NEW YORK CITY, NY (TIP): Colorful hands did 'Bale Bale' when 10,000 New Yorkers came together to celebrate Holi at the Dag Hammarskjöld Park (at United Nations) on May 3rd 2014. In its 5th Annual year, Holi Hai organized by NYC Bhangra Dance Company was sponsored and supported by India.com. "Holi is a fun festival, and Bhangra is a fun dance, we simply bring the two together" said Megha Kalia, Founder NYC Bhangra and director of the festival. " It is a festival of love and celebration. We wanted people from various backgrounds, and ethnicities to come together to forge their bonds of harmony and friendship".
The cultural extravaganza of dances included Bollywood, Bhangra, Salsa and Classical Kathak dances. " We want to make this a credible platform for upcoming young talents!" said Megha Kalia. Sumona Dey, a student of the Suresh Wadekar music institute sang ' Dumma Dum Mast Kalander '. Wyland band showcased alternative rock music from New Jersey. Punjabi artists got the audiences moving to 'Mirza ' a popular Punjabi folk song.
The multiple interactive Bhangra dance lessons were the highlight, which the audiences lapped up instantly. " There has been huge interest from non-Indian communities in our weekly dance classes. Majority of our company members are of American origin" said Dolly Kamalpreet, who is a senior choreographer & Instructor of NYC Bhangra Company. The junior students ranging 4yrs- 10 yrs of NYC Bhangra gave a special performance entertaining audiences that stole the hearts of all.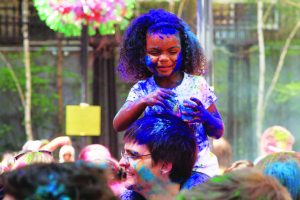 The joyful moments
In addition to dance, music and colors the crowd enjoyed authentic Indian cuisine. Indian handicrafts, Henna artists made the event a holistic experience. " The event has grown in scale and experience every year since its inception. It is something I eagerly wait for every year. The energy is unprecedented. I would love to come back to again " said a local resident, who has been witnessing the vent for the past four years and wishes that it continues to grow.
Young performers at the Holi festivities