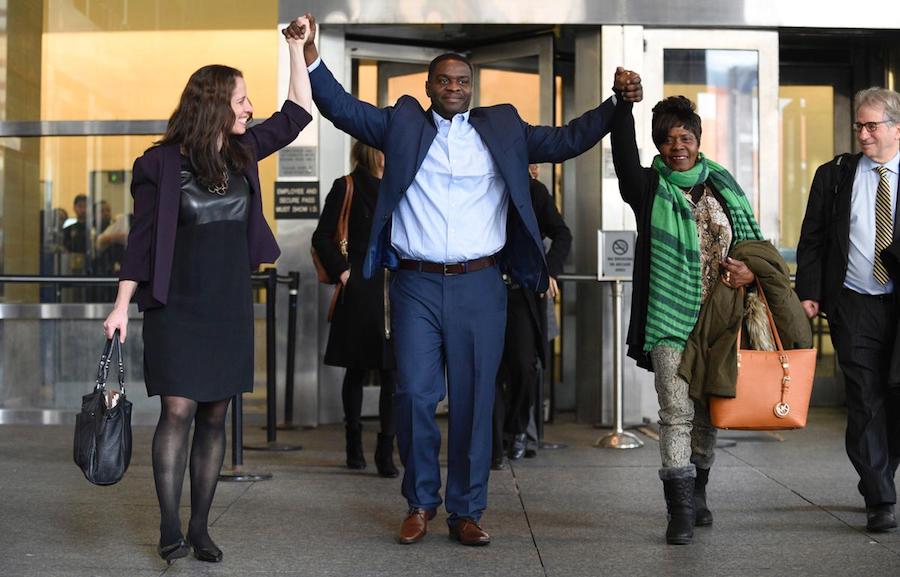 Guyanese American's 30-year unlawful imprisonment a systemic evil
"An unjust law is no law at all…Injustice anywhere is a threat to justice everywhere."- Martin Luther King Jr.
The evil and injustice that plague our judicial system have been painfully confirmed-yet again. Mark Denny, a 47 year old Guyanese national who came to achieve the American dream, was dealt an excruciating blow by the perverse inequities inherent in the USA's justice system. He was freed from a U.S. prison where he spent nearly 30 years for a crime he never committed, and now faces the legal challenge of fighting to remain in the United States where he has lived since the age of five.
He spent the past three decades behind bars for a brutal rape and robbery he didn't commit, yet he waxed magnanimously after his release, stating that he was "overwhelmed thinking of what I'll do next to get my life back on track."
Denny continued that, he has "no ill feelings towards the victim. Going to prison was a traumatic experience mentally. There's a lot of people in my position. I appreciate everyone for all they have done for me."
He is the 24th person to have his conviction vacated by the Conviction Review Unit of Brooklyn District Attorney, Eric Gonzalez, who said his review team examined evidence and interviewed witnesses as well as Denny's co-defendants in the case, a legacy of his predecessor, the legendary Ken Thompson.
"The rights of every man are diminished when the rights of one man are threatened."- John F. Kennedy
As if that injustice was not enough, the Daily News reported that Denny has new legal hurdles. He came to the US as a child from Guyana as a lawful permanent resident, and was ordered to be deported due to his conviction. Indeed, the collateral consequences of a conviction are devastating, and perpetuate a vicious cycle.
Trust me, I suffered American injustice first hand. Many legal experts are still at a loss to fathom how I could have logically obstructed a bogus federal crime, when my campaign contributions did not contravene the NY City Campaign Finance Act. Others reason that my attempts to buck the system and run for public office was the real crime, noting that more connected politicians have done worse than what was alleged against me, yet suffered no consequences-from Presidents to Governors to Mayors.
Others condemn how our laws can be manipulated by vile prosecutors to convict a candidate for federal obstruction while merely trying to comply with a mandated Campaign Finance Board Audit-a civil, administrative matter. This abomination exemplifies how the government can indiscriminately expand legal boundaries, invent a federal crime, and then selectively charge you over thousands of candidates for "committing, conspiring and/or obstructing" it. The jury acquitted me of all predicate mail and wire fraud charges, yet were coerced to convict me for obstructing a non-existent crime by the use of an overreaching Allen charge, despite their deadlock! See, e.g., http://www.nydailynews.com/opinion/errol-louis-nyc-campaign-finance-tangle-article-1.2403316.
Inhumane and barbaric injustice is all too common in America. Indeed, you, a law-abiding citizen, could be made the next "criminal" of the USA. We are the prison capital of the world. Thousands of laws exist that most people are not aware of, and which penalize conduct that few would even imagine was criminal.  Daily, ordinary Americans are prosecuted and even jailed for routine activities that somehow contravene the multitude of statutes and regulations that can be used by governments to trap the unwary. Surveillance cameras, immigration raids, drug-sniffing dogs, SWAT team raids, roadside strip searches, blood draws at DUI checkpoints, mosquito drones, Tasers, privatized prisons, GPS tracking devices, zero tolerance policies, over criminalization, free speech zones—these are all symptomatic of our police state in America.
"I was made, by the law, a criminal, not because of what I had done, but because of what I stood for, because of what I thought, because of my conscience." (Statement during trial, 1962)- Nelson Mandela
In their revealing book, One Nation Under Arrest: How Crazy Laws, Rogue Prosecutors, and Activist Judges Threaten Your Liberty, Paul Rosenzwieg and Brian W. Walsh highlight the over criminalization- the skyrocketing trend at both the state and federal levels of criminalizing conduct that could be regulated through civil law or administrative action, or should not even be regulated at all. Many other treatises expose our emerging, chilling, Orwellian police state. In Three Felonies a Day, Harvey A. Silverglate reveals how federal criminal laws have become dangerously disconnected and how prosecutors can overreach and pin dubious federal crimes on any one of us, for even the most seemingly innocuous behavior. Government employment in criminal justice has grown by 1 million employees since 1980, as noted by Michelle Alexander in The New Jim Crow.
Our so called "Department of Justice" is accountable for the outrageous reality that the USA has the highest per capita incarceration in the world. Although we have only 5% of the world's population, we top the world's prison population with 25% of that total! Worse yet, the US incarcerates a disproportionate ratio of minorities-1 in every 15 African American men and 1 in every 36 Hispanic men are incarcerated in comparison to 1 in every 106 white men. The Bureau of Justice Statistics reveals that 1 in every 3 black men go to prison in their lifetime, making our justice system one big cesspool of brazen injustices, unashamed bullyism and transparent contradictions.
In 2008, two judges, President Judge Mark Ciavarella and Senior Judge Michael Conahan, were convicted of accepting money from Robert Mericle, the builder of two private, for-profit youth centers for the detention of juveniles, in return for contracting with the facilities and imposing harsh adjudications on juveniles brought before their courts to increase the number of residents in the centers. Appropriately, it was dubbed the "kids for cash" scandal for the judicial kickbacks. Unfortunately, the Constitution has been sadly transformed to, "One Nation under Arrest, With Liberty and Justice for Some!"
"Therefore, send not to know…For whom the bell tolls…It tolls for thee. -John Donne
This catastrophic reality is further exacerbated by the fact that America, the land of the free and the home of the brave, has led the world in making incarceration a leading industry by itself. Our multimillion-dollar prison complex is one of the fastest-growing public private industries, with Wall Street investors, having its own trade exhibitions, conventions, websites, and mail-order and internet catalogs. 95% of people charged with crimes plead guilty in the US, an inexhaustible supply source, and a tragic reality of how justice is dispensed in America.
Prosecutors and law enforcement budgets are rewarded for convictions, but they are never asked to account for their perverse contribution to the prison budget, increases in welfare and Medicaid dependence on the nation, and the destruction of innocent lives wantonly wrought with immunity and impunity, on their way to higher offices.
Most Americans have suffered the brunt of injustice, discrimination and oppression at every level, from top to bottom. Immigration raids on homes and businesses, livelihoods disrupted, and families torn apart, the DACA rescission, undocumented children taken out of schools, state and federal agencies harassing residents, the attack on Obamacare and the FBI overreaching minor infractions to major crimes, have all put us under siege.
America is losing its soul through over criminalization, making and enforcing far too many stereotypes and criminal laws that are making criminals out of those who are respectable, law-abiding citizens. The abuse of the criminal law and practice over the past few decades by the government have raised troubling questions about the fairness of our criminal justice system as it affects all of us. We must fight back and realize the dream of making democracy, equal justice and the rule of law a priority for all!
Remember what Edward R. Murrow cautioned, "A nation of sheep will beget a government of wolves." Don't be a sheep! Enough is enough!
(The author is a civil rights activist and community advocate, and his political battles placed previously ignored minority communities like Richmond Hill and Ozone Park firmly on the political and economic map. As the President of the Baldeo Foundation and Queens Justice Center, he has continued to fight for equal rights, dignity and inclusion in the decision- making process. He can be contacted at the Baldeo Foundation: (718) 529-2300).