Vivekananda Yoga University (VaYU) Launched  in commemoration of IYD
I.S. Saluja / Bidisha Roy
NEW YORK (TIP): : The world celebrated June 21 the Sixth International Day of Yoga. The United Nations General Assembly on Dec 11, 2014, endorsed by record 177 members, recognized that "yoga provides a holistic approach to health and well-being, and that wider dissemination of information about the benefits of practicing yoga would be beneficial for the health of the world population."  The resolution invited all nations, UN and world organizations as well as civil society and NGOs to observe IDY to raise awareness of the benefits of practicing yoga.
The UN resolution followed Modi's call during his address to UNGA on Sept 27 , 2013 wherein he stated: "Yoga is an invaluable gift of India's ancient tradition. It embodies unity of mind and body; thought and action; restraint and fulfillment; harmony between man and nature; a holistic approach to health and well-being. It is not about exercise but to discover the sense of oneness with yourself, the world and the nature."
June 21 was suggested for the Yoga Day because it is the Summer Solstice (longest day of the year in the northern hemisphere), and from the perspective of yoga, it marks the transition in the Sun's celestial passage from north to south.
The Indian Panorama  received reports about the celebrations from various places and organizations.
Indian Embassy in Washington DC Celebrated the IDY
In Washington DC, the embassy of India celebrated the  6th International Day of Yoga (IDY) with the theme, "Yoga at Home and Yoga with Family" on Saturday, June 20, 2020 at the Ambassador's Residence.  The IDY 2020 was organized in partnership with Friends of Yoga and several organizations supporting Yoga in the United States.
Welcoming the participants joining the celebration online, Ambassador Taranjit Singh Sandhu highlighted the unifying force of Yoga, its immense benefits and how the International Day of Yoga has become part of the global calendar. In these testing times, he said, "World needs Yoga and meditation more than ever".
Consulate General in New York Celebrated IDY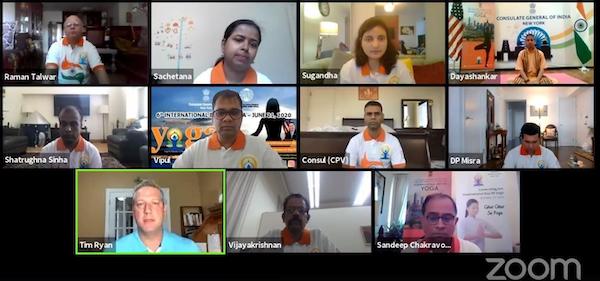 The Consulate General of India, New York organized the virtual yoga sessions on the theme "Ghar Se Yoga-Yoga at Home' to celebrate the 6th International Day of Yoga which falls on June 21st every year. In previous years, the day had been commemorated at prominent venues in and around New York with community participation. This year it was presented virtually due to COVID- 19 related restrictions in place and requirements of social distancing.
Various yoga and community organizations had lined up an array of virtual programs in the run-up to IDY 2020. All events were featured LIVE on the Consulate & the organization's Facebook page. Vihangam Yoga, Indo-American Arts & Cultural Forum, Govardhan Ecovillage, Indo-Cultural Association of North America, Isha Foundation, World Yoga Community, Heartfullness, Art of Living, Federation of Indian Associations (FIA), The Hindu Temple Society of North America, Swaminarayan Gurukul USA and Bruhan Maharashtra Mandal Uttarang partnered with the Consulate to celebrate IDY 2020. Various yoga sessions were conducted by professionally trained Yoga teachers. A guided yoga session based on the Common Yoga Protocol was performed by the
The Consulate's flagship event, held on June 21st, 2020, was attended by Congressman, Tim Ryan. In his virtual message, Congressman underscored that practices like yoga don't have to be a 'religious practice' to really experience its deep He also noted that during the COVID-19 pandemic, the practice of yoga can help communities heal together; ensure physical and mental well-being as people around the world deal with increased anxiety, uncertainty and unemployment.
Sandeep Chakravorty, Consul General of India in New York, said yoga originated in India but the US has become its second home, with more than 36 million Americans practicing yoga regularly. He said India, the US and other countries in the world have been facing the challenge of COVID-19 for the last few months. Amid this, yoga has come to our aid to help us maintain our physical health and mental wellbeing. Dr. Dayashankar Vidyalankar, Teacher of Indian culture at the Consulate, demonstrated Yoga asanas.
Several officials and staff from the Consulate General of India, New York along with members of the community joined the online Yoga sessions. All events were viewed by more than 1.5 Lakh people.
Vivekananda Yoga University (VaYU) Launched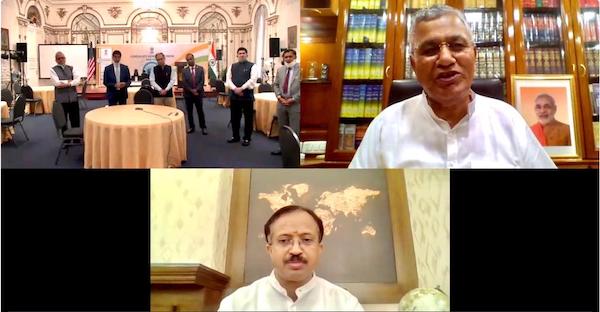 As part of the 6th International Day of Yoga celebrations, the world's first yoga university outside India, Vivekananda Yoga University (VaYU), was jointly launched by Mr. V. Muraleedharan, Hon'ble Minister of State for External Affairs and Mr. P.P. Chaudhary, Chairperson, Standing Committee on External Affairs, in a virtual event on June 23, 2020.   The event was jointly hosted by Consulate General of India, New York and Jaipur Foot USA. Mr. Prem Bhandari, Chairperson, Jaipur Foot USA and founding director of VaYU,  and other prominent members of the community were also present on the occasion.
The announcement of courses by the university came within three months of receiving official recognition from the Bureau for Private Post-secondary Education, California to offer yoga-based higher education programs in November 2019. SreeSreenath, Professor from Case Western University, has been named its President. Indian yoga guru Dr. H. R. Nagendra, Chancellor of Swami Vivekananda Yoga Anusandhana Samsthana (SVYASA) is the first Chairman of VaYU.
Founded on the principles of Swami Vivekananda's prescription for universal welfare, VaYU will offer online graduate programs based on scientific principles and modern research approaches to the ancient Indian practice of yoga. VaYU faculty has been recruited from Swami Vivekananda Yoga Anusandhana Samsthana (SVYASA) – the first Yoga university in India. VaYU will facilitate collaborative research, credit transfers and joint programs with multiple premier universities across the world.
In his virtual live message, Hon'ble Minister of State for External Affairs expressed his gratitude to Prime Minister Shri Narendra Modi for making yoga a universal activity. He also noted that Yoga has become a large movement that even with COVID-19 restrictions, International Day of Yoga was celebrated with great aplomb across the world.
The university will help thousands of yoga teachers in the US whose yoga education was limited to 200 or 500 hours of certificate programs to progress further into university-based higher education, remarked Mr. P.P. Chaudhary. The efforts of Prime Minister Shri Narendra Modi who was instrumental in getting the UN declaration of International Day of Yoga on June 21st to popularize Yoga will get a boost with the establishment of a Yoga university in the US, he said.
Sandeep Chakravorty, Consul General of India in New York, mentioned that New York has deep ties with Yoga. Swami Vivekananda's journey bought him to New York where he lived many years and wrote books on Yoga. Many years later the resolution to commemorate International Day of Yoga was also passed by the U.N. in New York in 2015.
The university will offer online master's program in Yoga. The applications for fall 2020 semester are open with the first day of classes starting on August 24 in a virtual mode.