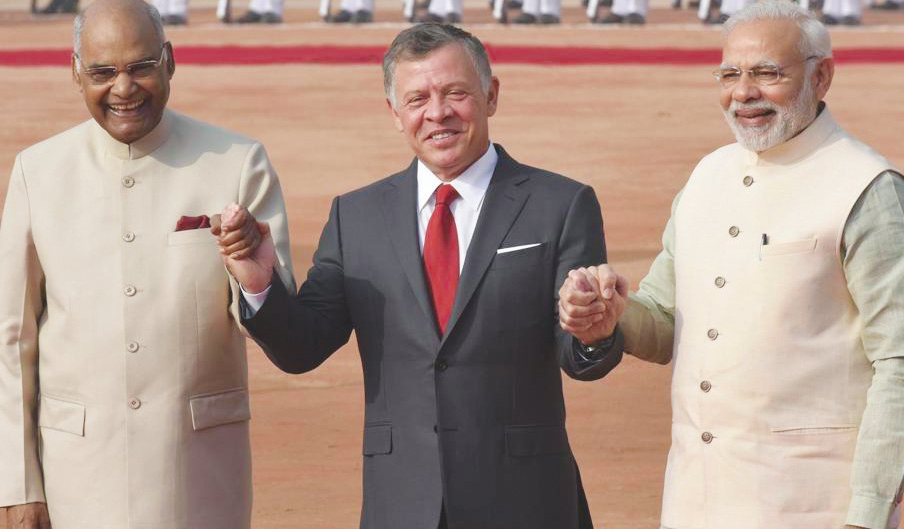 NEW DELHI (TIP): Prime Minister Narendra Modi on Thursday said the fight against terrorism and radicalization was not against any religion, but against a mindset that misguides the youth.
Speaking at a conference on "Islamic heritage: Promoting understanding and moderation", Modi said India's values of equality, diversity and harmony strengthened it in a world of uncertainty and these were important to defeat violence and extremism.
"Indian democracy is a celebration of age-old pluralism," Modi said in a speech to an audience that included King Abdullah II of Jordan and many Islamic clerics and scholars.
Abdullah, a 41st generation direct descendant of Prophet Mohammed, is known for his global initiative to fight radicalization and terrorism. He is also the custodian of holy sites in Jerusalem, including the Al-Aqsa mosque, the third holiest site in Islam, located in the Old City of Jerusalem.
India views Jordan as an "oasis of stability and harmony" in conflict ridden West Asia and New Delhi is looking to deepen bilateral ties with the country, according to senior government officials in New Delhi.
India has been a victim of terrorism since the 1980s and, since the 1990s, witnessed an Islamist insurgency in Kashmir that has claimed many thousands of lives. India blames Pakistan for supporting anti-India terrorist groups inimical in Kashmir.
In his speech, Modi said that "those who perpetrate acts of violence against humanity perhaps don't realise that they harm the religion they claim to stand for."
"The fight against terrorism and extremism, against radicalization is not a fight against any religion. It is a fight against a mentality that misguides our youth to perpetrate acts of violence against innocents," he said, urging the youth to associate themselves with the humanitarian aspects of Islam on the one hand and the use of modern technology on the other.
In his speech, the Jordanian king said the current global war against terror should not be viewed as a fight between religions. "It is between moderates of all faiths and communities and against extremists who spread hatred and violence," he said. He also emphasized the need to "recognize and reject the misinformation groups promote about Islam, or indeed any religion."
"We need to take back the airwaves and internet from the voices of hatred, those who have victimized our world not only with bombs and terror but with ignorance and lies," the king said, adding that inclusion was the path to coexistence.
"The fact that the king came to India and delivered this address is very significant given that he is the direct descendent of the Prophet (Mohammed). His words carry great weight," said a person familiar with Abdullah's visit.
Later in the day, India and Jordan signed 12 agreements including a framework pact on defence cooperation that defines the "scope of such cooperation and making provisions for implementation of the cooperation in some of the recognized areas like training; defence industry; counterterrorism; military studies; cybersecurity; military medical services, peace-keeping, etc.," a statement from the Indian foreign ministry said.
Another pact aims to set up a Centre of Excellence in Jordan "for training of minimum 3,000 Jordanian IT professionals over a period of 5 years, and setting up of a resource centre in India for training of master trainers in IT field from Jordan," the foreign ministry statement said.
A third pact on setting up a fertilizer production facility in Jordan "with a long-term agreement for 100% off take to India" was also signed. It is aimed at ensuring long-term and sustained supply of rock phosphate to India, the statement said.
Briefing reporters after official talks between Modi and Abdullah, S. Tirumurthy, secretary-economic relations in the Indian foreign ministry said, "There was a keenness on both sides to take this (the relationship) further."
Both sides are looking at closer security cooperation given that Jordan sits at the crossroads of a very volatile region neighbouring Israel, Palestine, Syria, Iraq and Saudi Arabia.
Source: PTI