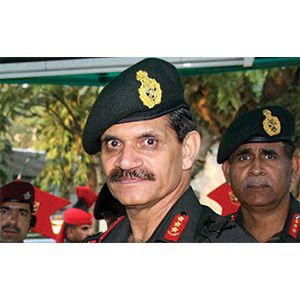 Dalbir Singh Suhag takes over as new Army chief

Lt Gen Dalbir Singh Suhag has taken over as the head of the 1.3 million strong Indian Army, succeeding General Bikram Singh. Suhag, whose appointment had kicked up a row, was designated as Army chief in May by the outgoing UPA government ignoring protests from his predecessor Gen VK Singh and BJP. 59-year-old Lt Gen Suhag, a Gurkha officer who had participated in the 1987 Indian Peace Keeping Force (IPKF) operation in Sri Lanka, is currently the Vice Chief of Army Staff. He will have a tenure of 30 months as the 26th Chief of the armed forces. Suhag was made the Vice Chief of Army Staff in December last year.

Earlier, he had taken over as the Eastern Army Commander on June 16, 2012. He was at the centre of a controversy triggered by 'Discipline and Vigilance' ban imposed on him by the then army chief Gen VK Singh in connection with an intelligence operation in Assam earlier. The ban on Suhag, the then 2 Corps Commander, was lifted soon after Gen Bikram Singh took over in May, 2012. BJP had questioned the "hurry" in making the appointment and insisted that the matter be left to the next government. However, soon after the NDA government took over, defence minister Arun Jaitley said the new dispensation will continue with the appointment made during UPA rule.

NEW DELHI (TIP): On his first day in office, Army chief Gen Dalbir Singh Suhag on August 1 warned Pakistan that India's response to any beheading-like incident in future would be "more than adequate, intense and immediate". "I can tell you that our response to any such act will be more than adequate in future. It will be intense and immediate," he told reporters after his welcome guard of honour as chief of Army staff.

The new Army chief was asked how did India give a 'befitting reply' to Pakistan after the beheading of Indian soldier Lance Naik Hemraj along the line of control in Poonch sector on January 8, last year by Pakistani troops. Previous Army chief Gen Bikram Singh had on July 31 stated that India had given a befitting reply to Pakistan after the beheading incident. "It has been done. Please understand that when we use force, that use is from tactical to operational to strategic levels.

"When I mention that during that incident, it was aimed at operations at the tactical level, which have been undertaken. I think this has been done by the local commander, the chiefs have nothing to do with it," Gen Singh had said. Pakistani Special Forces under the Border Area Teams (BAT) had carried out the operation of beheading Hemraj and mutilitating the body of Lance Naik Sudhakar Singh. Later in August, they had also killed five Indian troops in the same sector in a joint attack by Pakistani Special Forces and LeT terrorists.