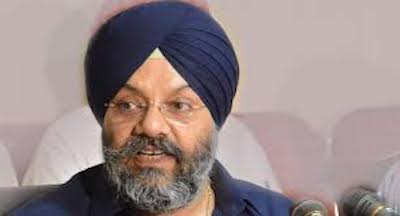 Shiromani Akali Dal (SAD) dissolves Delhi, UP, Rajasthan units
NEW DELHI(TIP): A court on Thursday, December 13,  ordered filing of a FIR against DSGMC leader Manjit Singh GK and others in a financial irregularities case.
Metropolitan Magistrate Vijaita Singh, Patiala House Court, in her judgement, ordered the Delhi Police to lodge a complaint against DSGMC leader Manjit Singh GK, general manager Harjit Sigh Subedar and joint secretary Amarjit Singh Pappu for alleged financial irregularities in gurdwara committee.
The court pronounced the order on a petition of Gurmeet Singh Shanty who alleged that the accused had embezzled Rs 51 lakh from the gurdwara fund. Shanty alleged that a fake bill of 82,000 books of Sikh heritage and a fake bill of safari suit were also submitted by the accused.
Shanty had first lodged a complaint with North Avenue police station.
When police allegedly failed to lodge the FIR, Shanty filed a petition in the court. After getting the case investigated, the court, on December 13,  ordered for registration of the FIR.
The court also ordered the police to appear before the court on December 14.
Manjit  Singh GK was president of the Delhi unit of the SAD and Manjinder Singh Sirsa was the youth president.
Meanwhile, ahead of the 2019 Lok Sabha elections, SAD chief Sukhbir Singh Badal on Thursday, December 13,  dissolved the party units in Delhi, Uttar Pradesh and Rajasthan with immediate effect.
The decision, aimed at overhauling the state units, was taken based on suggestions by party observers for the two states and the national capital – MPs Balwinder Singh Bhundar and Prem Singh Chandumajra, and former minister Sikandar Singh Maluka, SAD senior vice-president  and spokesperson Daljit Singh Cheema said.
Cheema said the process of making major changes in the organizational structure of the party had been going on in the wake of the upcoming Lok Sabha polls.
"New organizational structure will be announced in the next two months after having extensive deliberation with the senior leadership of the party," he said.
(With inputs from PTI)