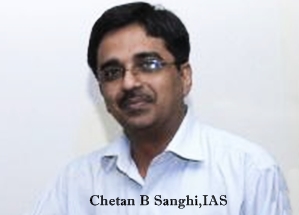 Chetan Sanghi, a senior IAS officer serving in the Delhi government, who had claimed that he was under "pressure" for naming a "certain VIP" in the DDCA probe panel report, has sought an appointment of Home Minister Rajnath Singh.
Sanghi has sought the appointment of the home minister but no decision has been taken yet to oblige him, sources said.
The home ministry is the cadre controlling authority of the Union Territory cadre IAS officers and home minister is guardian of all of them. But no one will be allowed to break service rules and regulations, sources said.
Sanghi, the Delhi government-appointed DDCA probe panel chief had recently written to Union home secretary Rajiv Mehrishi that he was under "pressure" from various "stakeholders" for naming some individuals, including a "certain VIP", in his report on the affairs of the cricket body.
Sanghi has requested for deputation at Centre, but his demand is unlikely to be addressed, sources said because the Centre wants the officer to first devote himself in his present assignment in the AAP government within the rules and regulations.
Accepting the requests of Sanghi will only encourage "politicking" by bureaucrats and further confrontation with the Arvind Kejriwal-led Delhi government, sources said.
Leader of opposition in the Delhi Assembly Vijender Gupta had recently alleged that lawyer Rahul Mehra, a member of the probe panel, had put pressure on Sanghi to name Union Finance Minister Arun Jaitley, who has been accused by AAP of allowing "wrongdoings" to happen under his watch as DDCA chief from 1999-2013. Mehra had denied the charges.
Sanghi had submitted the report to the AAP government in November last year.
Based on recommendations of the Sanghi panel, the AAP government had last month set up an inquiry commission to investigate the alleged irregularities in DDCA, including the period from 1999-2013 when Jaitley headed it.
"There was considerable emphasis on naming who were at fault and in particular a certain VIP. There was a lot of pressure from various stakeholders since the subject was very controversial," Sanghi wrote to the home secretary.
Since the "formal mandate was not to do so", a very tightrope walk was taken and the short time frame of three days also did not particularly help matters, he added.
Sanghi, who headed the three-member probe committee, said there was a "lot of pressure from various stakeholders" since the subject was very controversial and there were a lot of yesteryear cricket luminaries who were very vocal about the alleged mismanagement in DDCA.
In his letter, Sanghi has also requested for closing cases initiated against him by the Anti-Corruption Branch.