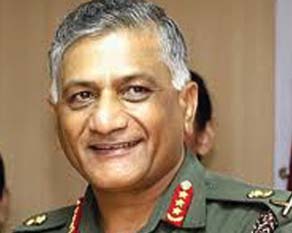 NEW DELHI (TIP): The Supreme Court on Wednesday closed contempt of court proceedings against former Army chief General V K Singh after he tendered an unconditional apology and retracted all comments made to the media against judges for alleged inappropriate handling of his age row petition. A bench of Justices R M Lodha and H L Gokhale was not satisfied with the affidavit tendering unconditional apology and at the same time faulting the media for misreporting.
"Either you have said it or you have not. You cannot apologize and at the same time doubt the media reports," the bench told him. Gen Singh's counsel Ram Jethmalani said the former Army chief's apology was unconditional and that he was ready to retract every statement he had made to the media which appeared to be an affront to the judiciary. In support of the former Army chief's bona fide, Jethmalani said Gen Singh's autobiography, written immediately after he had withdrawn his petition on the age row from the Supreme Court, had not said a single word against the judiciary or judges. The senior counsel wanted to present the judges with copies of the general's autobiography 'Courage And Conviction'.
As Jethmalani was readying copies of the book to hand them over to the judges, the bench politely declined. "We will ask the Supreme Court library to purchase copies of the book. It is always enlightening to read the experiences of a general. At least the publisher will get his dues," the bench said. When Gen Singh agreed to withdraw his remarks against the judges and the court made in an interview to a TV channel on September 21, the court pointed out that he had given two more interviews more or less of similar nature. Jethmalani said, "My client is withdrawing all earlier comments in addition to unconditional apology."
But an advocate wanted to intervene in the matter to point out the seriousness of contempt committed by the former Army chief. The court brushed aside his arguments and said, "It is a matter between the court and the contemnor. The attorney general is there to assist the court. We do not need any intervenor." Attorney general G E Vahanvati too requested the court to close contempt proceedings against Gen Singh and the newspaper which published it, saying both had tendered apologies. Accepting the apology, the bench closed the contempt proceedings and said, "Repentance is a tool which condones all sorts of misdemeanours. Once the apology comes from the heart, the contempt need not be continued even for a second more." The bench also said since the apologies appeared to be bona fide and came promptly without contesting the contempt notices issued by the court, it would drop the contempt proceedings.