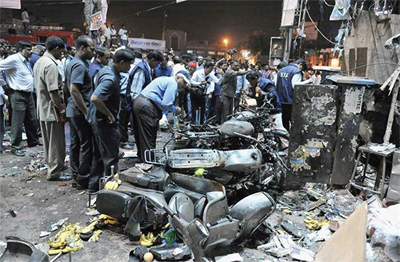 HYDERABAD (TIP): A dazed childwith blood pouring down her foreheadand a 60-year-old man shrieking withpain summed up the scene in the cityhospitals as hundred of injured peoplepoured in with torn limbs, shrapnelwounds and blood-spattered bodiessoon after the twin blasts inDilsukhnagar on February 21 evening.In all, at least 70 people were rushedto various hospitals in the city afterthe blasts. With patients pouring intothe Emergencies all evening andworried relatives and friends movingfrom place to place in search of theirdear ones, the hospitals were a sceneof chaos.
Eyewitnesses said that criesfor help echoed in the air and doctorsand nurses were constantly occupied.Most of the injured were taken toOsmania General Hospital wherearound 31 people are being treated forvarious burn injuries and multiplefractures. Around 10 bodies werereportedly brought to the mortuaryafter they were declared dead at OGHby 9.30pm.Among the patients at Osmania was37-year-old P Yadayya, resident ofSantosh Nagar and a real estate agentwho was returning home on Thursdayevening after collecting rent from histenants. He was in front of Venkatdritheatre in Dilsukhnagar when theexplosion occurred and left him withserious multiple fractures in both hislegs.His cousin, P Karunakar, a softwareengineer said it was very difficult tofind him in the hospital with all theconfusion.
"I got a call from himasking me to come to Osmania but Icould not get into the building for agood 20 minutes. Moreover, he wasmoved around a lot from casualty, toemergency and then to another room,"he said.The confusion at Osmania led toaround eight cases being shifted toother private hospitals in the vicinity.Doctors at the hospital wereoverwhelmed with the sudden influxof patients and many injured peoplecomplained that they had to wait for along time to be attended. At YashodaHospital in Malakpet and very close tothe scene of the blasts the first batchof seven injured people were broughtin at 7.20pm. By 9pm, there were atotal of 16 patients of which 15 werecritical and four very critical withsevere burns and other shrapnelinjuries.
The critical patients wereadmitted into the Acute Medical Careward.At least two patients were alreadyundergoing surgeries for abdominaland head injuries by 9.30pm. "Most ofthe patients have lost a lot of bloodand at least one patient is likely torequire amputation due to severedamage to a limb. Most patients willrequire surgery," said a senior doctorat Yashoda.The burns ward of the hospital wasespecially chaotic with doctors andnurses running helter-skelter to tendto the ailing patients.One of the blast survivors at thehospital, 57 year-old L Vishwanathwho owns a mobile shop atDilsukhnagar said his shop wascompletely obliterated by theexplosion. "I only remember hearing ahuge sound and then everything wentblank. The entire shop caved in andwhen I came to my senses, I saw thatmy right leg was severely damaged,"he said.GHMC Commissioner KrishnaBabu, mayor Majid Hussain andcommissioner of police AnuragSharma visited the hospital andassured relatives of the injured peoplethat support will be provided.
Two youths, Rajasekhar and Vijay, who areundergoing sub-inspector training, died on thespot. They were having snacks at the tiffin centre.This is the third time terrorists have madeDilsukhnagar their target. First, they planted ascooter bomb outside a famous Sai Baba Mandir, alittle away from Dilsukhnagar bus stop. Threeunexploded bombs were recovered in May 2008,during the serial blasts at Lumbini Park and GokulChat, killing 42.Though no outfit had claimed responsibility tillthe time of going to print, the police suspect thatthe blasts are the retaliation to the executions of2008 Mumbai attacks convict Qasab and the keyperson in the attack on Indian Parliament, AfzalGuru.Speaking to Mirror, a senior police official saidthey suspected the blasts to be the handiwork ofPakistan-based terror outfit Lashker-e-Toiba.