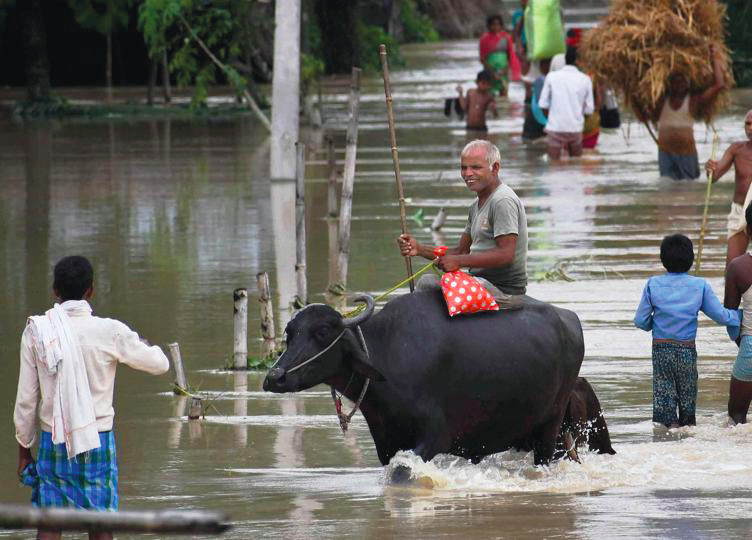 NEW DELHI (TIP): After years of foot-dragging, India will begin work in around a month on an $87 billion scheme to connect some of the country's biggest rivers, government sources say, as Prime Minister Narendra Modi bets on the ambitious project to end deadly floods and droughts.
The mammoth plan entails linking nearly 60 rivers, including the mighty Ganges, which the government hopes will cut farmers' dependence on fickle monsoon rains by bringing millions of hectares of cultivatable land under irrigation.
In recent weeks, some parts of India and neighbouring Bangladesh and Nepal have been hit by the worst monsoon floods in years, following two years of poor rainfall.
Modi has personally pushed through clearances for the first phase of the project – which would also generate thousands of megawatts of electricity – the sources say, despite opposition from environmentalists, tiger lovers and a former royal family.
That will involve construction of a dam on the Ken river, also known as the Karnavati, in north-central India and a 22- km (14-mile) canal connecting it to the shallow Betwa.
Both rivers flow through vast swathes of Uttar Pradesh and Madhya Pradesh, ruled by the Bharatiya Janata Party (BJP), and the prime minister hopes the Ken-Betwa scheme will set a template for other proposed river interlinking projects, one of the sources said.
"We have got clearances in record time, with the last round of clearances coming in only this year," Sanjeev Balyan, the junior water resources minister, told Reuters. "The Ken- Betwa interlinking tops the priority list of the government."
Government officials say diverting water from bounteous rivers such as the Ganges, Godavari and Mahanadi to sparse waterways by building a clutch of dams and a network of canals is the only solution to floods and droughts.
But some experts say India would be better off investing in water conservation and better farm practices. Environmentalists and wildlife enthusiasts have also warned of ecological damage.
The 425-km (265-mile) Ken flows through a tiger reserve nestled in a verdant valley. The government plans to clear out 6.5 percent of the forest reserve to build the dam, relocating nearly 2,000 families from 10 remote villages.
Around half a dozen clearances, including on environmental and forest protection, have been obtained for the scheme to link the Ken and Betwa, according to two sources and documents seen by Reuters.
Modi's cabinet is likely to give its final go-ahead for the project within a couple of weeks, sources say, after which he will flag off construction at the site about 805 km (500 miles) from New Delhi, currently marked only by rows of red concrete slabs placed on the ground.
Source: Reuters