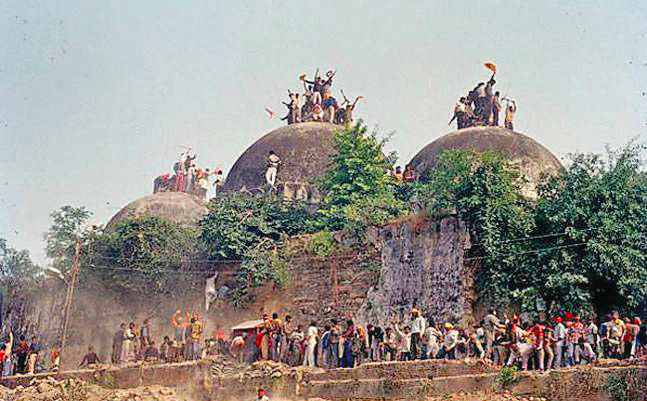 NEW DELHI (TIP): Amid claims and counter-claims by various Hindu and Muslim leaders over the Ram Janmabhoomi-Babri Masjid site in Ayodhya, the Supreme Court on Feb 8 refused to be drawn into religious arguments, saying it was only a property dispute.
"We are treating it only as a land dispute. There are appeals and crossappeals," a three-judge Bench headed by Chief Justice of India Dipak Misra said after an advocate, who wanted to intervene in the matter, said it involved sentiments of 100 crore Hindus.
The Bench chose to keep pending all intervention applications filed by those who were not parties to the dispute before the Allahabad High Court. "We are not allowing the intervention application… We are not dismissing them… The applications for impleadment and intervention shall be considered at the appropriate time," said the Bench, which also included Justices Ashok Bhushan and S Abdul Nazeer.
One such intervention application pending before the Bench is from BJP leader Subramanian Swamy.
The top court asked all parties to file English translation of documents relied upon in two weeks and posted the matter for March 14. It did not commit to a "dayto- day" hearing of the case.
The top court is seized of crossappeals challenging the Allahabad High Court's September 30, 2010, verdict dividing the 2.7-acre disputed land at the Ram Janmabhoomi-Babri Masjid site equally between Ram Lalla, Nirmohi Akhara and Sunni Wakf Board. All three chose to challenge the order before the top court. Besides, there are more than 10 other appeals as well.
Thursday's hearing was in sharp contrast to the one held on December 5, which was marred by a heated exchange after senior counsel Kapil Sibal, Rajiv Dhawan and Dushyant Dave — representing Muslim appellants — insisted that the case should be heard only after the 2019 Lok Sabha poll as it might impact the electoral outcome.
Additional Solicitor General Tushar Mehta, representing the Uttar Pradesh Government, told the Bench that 504 exhibits, including scriptures such as the Ram Charit Manas and the Bhagavad Gita, their excerpts and 87 depositions along with the translations had been filed.
Advocate Ejaz Maqbool, appearing for one of the appellants, gave an overview of the documents already filed and those required to be filed. The Bench directed the Registry to make available copies of two video cassettes to advocates for various parties on payment of actual cost.
The otherwise peaceful proceedings witnessed some banter after senior counsel representing Ram Lalla, CS Vaidyanathan, said the other side should submit a synopsis of their legal propositions to make it easy for all concerned to assist the court.
"The High Court's verdict is an insult to justice," Dhawan said. He requested day-to-day hearing, but the Bench didn't appear inclined. "There are 700 cases pending where citizens are crying for justice," said CJI Misra, clarifying he was not commenting on the importance of the Ayodhya case.