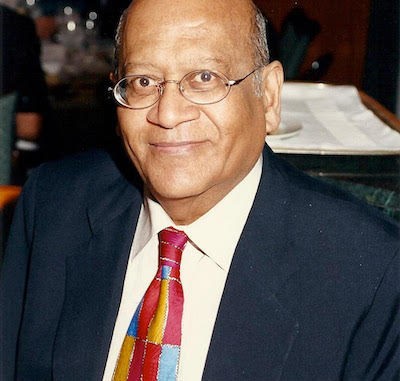 HICKSVILLE, NY (TIP): Mr. Peter Bheddah, a community stalwart in the Tri-State area of New York, New Jersey and Connecticut, passed away on July 21. He was 80.
A man of charitable disposition and generous to a fault, Mr. Bheddah was driven by an overriding impulse to help the needy. He delved deep into his own pockets and   worked tirelessly to provide the much-needed succor to the needy in the US as well as India.
Mr. Bheddah was associated with a number of organizations , and won recognition for his community work from all quarters. He was a recipient of one of the highest civilian honors of US- the Ellis Island Medal of Honor, besides many  other. awards.
Several community and business organizations and  individuals have mourned the death of Mr. Bheddah who leaves behind his wife Dorothy, two daughters, and grandchildren .
TRIBUTE: Peter Bheddah – The Man with the milk of human kindness
My friend, Peter Bheddah is no more. His being no more means a lot to many people whose lives he touched. His being no more means a loss of world for his wife Dorothy and their daughters, and their grandchildren. His being no more means those who were running soup kitchens will probably miss his charity, until, of course, Dorothy decides to continue with the generosity Peter displayed.
Nothing pleased my friend more than serving people, particularly helping out the needy and the underprivileged. I know of his support to various organizations engaged in serving the poor in the communities. Peter would not hesitate for a minute if he was convinced that his money was being spent for a good cause.
I recall my conversation with him after he received the coveted highest civilian award for immigrants-the Ellis Island Medal of Honor. I asked him  how he felt receiving the Ellis Island Medal of Honor, and pat came the reply: "another gift for the service I have been doing to community". The Ellis Island Medal of Honor, America's highest honor for immigrants, is a well-deserved, long overdue award bestowed in May 2012 on Peter Bheddah who has devoted 35 years of his life serving humanity.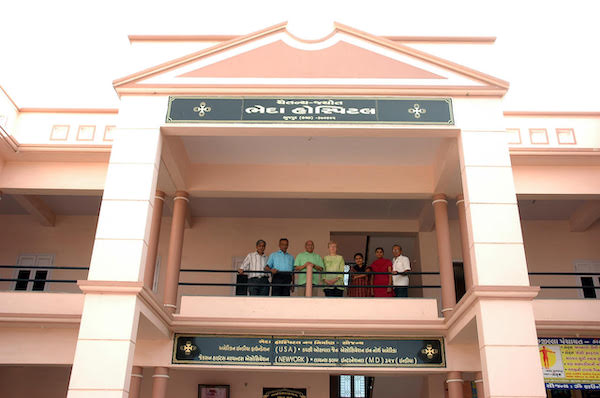 The New Yorker, with origins in Gujarat, India, has been active in charitable activities and has held positions of responsibility in service projects and community organizations, both in India and the US.
Peter, a  Jain Kutchi from Gujarat whose real name was  Chhotalal Vijpal Bheddah,  came to America as a student in 1960 after his college in Chennai. He started a business dealing in electronics.  IDC Marketing started by him in 1972 from Manhattan grew to do millions of dollars of business annually in electronics wholesale trade selling telephones, television sets, VCRs, Sony Walkmans, cameras, etc. It was also the first Indian American company in the line. While business prospered, Bheddah never lost track of what he set out to achieve: to help the needy. He has delved deep into his own pockets and has worked tirelessly to provide the much needed succor to the needy in the US as well as India.
Having inherited altruistic genes from his grandfather who had set up hospitals and schools in their native place in Kutch, Bheddah's own charitable activities started in 1994 when he originated and promoted the concept of assisting the less fortunate through India Association of Long Island (IALI). He has since been a Grand Sponsor every year and has obtained truckloads of food for IALI's annual food drive. This has helped IALI to provide the Interfaith Nutrition Network, which operates 14 soup kitchens for the homeless people.
After the 2001 earthquake in Bhuj, Kutch, Bheddah visited the devastated area with President Bill Clinton. His commitment to the humanitarian cause has resulted in supporting projects worth $1,000,000 for rebuilding the region. The hospital in Bhujpur established by his forefathers in 1929 was demolished after the quake. However, with his efforts, a new 9,000 sq foot hospital was opened in 2006. The 20-bed Bheddah Hospital serves 23 villages with excellent medical care. He also built 500 houses and two schools in Kutch.
Bheddah was  a past president and a director of the Nargis Dutt Memorial Foundation based in Long Island. The fundraising and completion of projects during his presidency (1992-94) have been unsurpassed on many counts. Over the past 30 years, the New York chapter of the Nargis Dutt Memorial Foundation has provided financial support for 50 projects worth more than $5,000,000. Numerous Indian hospitals have received equipment for detection and treatment of cancer for needy patients; Bheddah actively supported those efforts.
He was  active for the last 35 years in a wide variety of community and service organizations. He was  a trustee and past president of the Gujarati Samaj of New York. He was a trustee of the Samaj for 2009-2012. During his two-year term from 2001 to 2002, he was  credited with raising a substantial amount of money and restructuring the finances of the Samaj.
Peter Bheddah's association with and leadership of many organizations and institutions  will always be remembered.
Mr. Bobby Kumar Kalottee, one of his close friends, recalled his long association with Mr. Bheddah and said he always looked upon him as an elder brother who encouraged him to continue to serve community and humanity, no matter what obstacle some may try to place in his way. Mr. Kalottee  who was filled with grief at Mr. Bheddah's passing away, lamented that the Indian American community had lost a leader, a guide a, a philosopher and a friend.
Another old time friend of Peter, Subhash (Sam) Kapadia recalled how Peter was the one who helped him set up his business. He said Peter was the one who guided and helped him in his business when nobody was willing to help him.
There are many who were helped and guided by Peter. The man was kindhearted, of charitable disposition and , at times, generous to a fault. When comes such another?
My heart goes out to his family who were so used to him. My heart goes out to his best friends- Shiv Dass, Subhash Kapadia, Bobby Kumar Kalottee who will find an emptiness in life with him having gone.
And, as for myself, I have lost a friend and a patron.. Life will not be the same again.
I pray for eternal peace to the departed soul. I pray for strength to the bereaved family to bear the irreparable loss. And, to friends and admirers of Peter, of whom  I am one, I will suggest we carry forward his message and legacy which will be our true tribute to him.