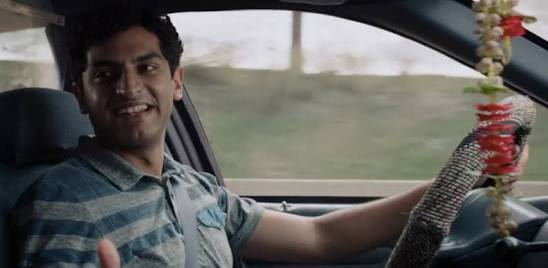 HOLLYWOOD (TIP): Indian American Karan Soni's os known for his blockbuster movie Deadpool where he played the role of a comedy superhero.
His memorable character 'Dopinder', a cab driver, received critical acclamation.
Soni, who completed 55 projects, is an actor known for his scene-stealing roles in comedy but it was after Tim Miller cast him in Deadpool that the world began noticing the Indian American actor.
Now, with Deadpool 2 getting ready for the international launch this May, Soni is ready to climb more ladders of successin Hollywood.
The latest Trailer of Deadpool 2 has Soni in a different look.
In the Valentines day posters of Deadpool 2, released by Marvel,  Soni is again featured as Dopinder.
Soni, 29, was born in Delhi and he came to the United States as a student of business at the University of South California. He is currently based in Los Angeles.
According to Soni, it was his professors who first discovered his acting talent and motivated him to apply for the auditions of TV shows and movies. He started attending auditions as a teenager with the help of an agent who was impressed by one of his plays. Soni bagged his first role at the age of 21 – a small role on TV.
Soon after his first appearance on American television, Soni had his first Hollywood experience – a role in the movie Safety Not Guaranteed with Aubrey Plaza and Jake Johnson, which was screened at Sundance Film Festival.
In a way, Soni paved the way for stars such as Aziz Ansari, Priyanka Chopra and Hasan Minhaj, who have found success in Hollywood in recent years.
He has been in the US entertainment industry for almost a decade through TV shows, ads and now in films.
It seems the actor, who is seen listening to Bollywood songs Mera Joota Hai Japani and Tumse Accha Kaun Hai after the opening credits of Deadpool 1, is a big fan of Bollywood.
According to his official twitter account, Soni will be seen next in the comedy movie Unicorn Store and zombie comedy thriller Office Uprising. He will be also feature in the TV series Miracle Workers, and Misfits and Monsters.
Directed by David Leitch, Deadpool 2 stars Ryan Reynolds as Wade Wilson/Deadpool, Zazie Beetz as Domino, Josh Brolin as Nathan Summers/Cable, Brianna Hildebrand as Negasonic Teenage Warhead, Stefan Kapcic as Piotr Rasputin/Colossus, Morena Baccarin as Vanessa Carlysle, T.J. Miller as Weasel, Leslie Uggams as Blind Al, and Soni as Dopinder.