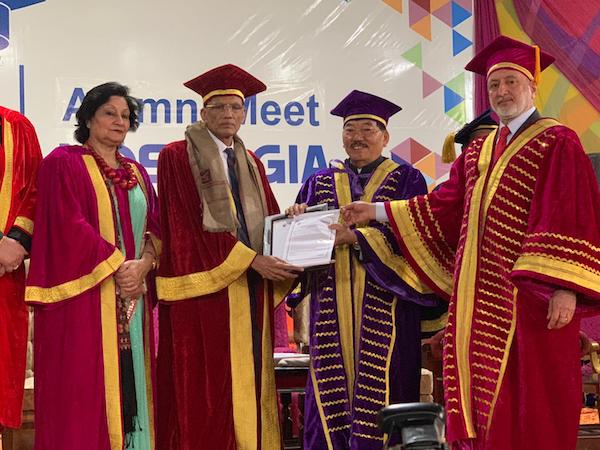 EDISON, NJ(TIP): Padma Shri H R Shah, chairman and CEO of leading South Asian American channel TV Asia, has been awarded an honorary doctorate by Desh Bhagat University  in Punjab, India on Feb 14.
Mr Shah was recognized for his services as an Indian American entrepreneur, a turnaround specialist, philanthropist and an endearing community leader. He was the chief guest at the university's annual event, along with Pawan Kumar Chamling, Chief Minister of Sikkim, who also received an honorary doctorate and was the keynote speaker.
Dressed in ceremonial robes, Mr Shah accepted the honorary degree from Chancellor Dr Zora Singh, Pro Chancellor Tajinder Kaur and Vice Chancellor Dr Virinder Singh. The award was presented by Sikkim Chief Minister Pawan Kumar Chamling.
In receiving the honorary doctorate, Mr Shah was cited for his selfless services for the cause of humanity. "It is your multi-faceted personality, exceptional vison, deep commitment toward culture, literature, political philosophy and educational activities that are an inspiration to the young generation," the university said.
Among others who also received the honorary doctorate at the event, included Bharat Ratna and former President of India Pranab Mukherjee (In absentia); Dr Huzaifa Khorakiwala, CEO of Wockhardt Foundation; V R Shankara, president and general counsel of Hindalco Industries; conservationist Sant Balbir Singh Seechewal; actress Priti Sapru; Lov Verma, former health minister; and Lt Gen.  Shokin Chauhan. The Chancellor's Distinguished Leadership Award were given to: R S Basnet, principal secretary of Assam; Shrabani Patnaik; Mata Jarnail Kaur; Dr Vikas Jindal; Dr Naresh Mittal of Dhanwantry Ayurvedic College; Dr S P Singh, chairman of Apex Group, Dubai; Prof R P Kaushik and Binay Kumar.
As chairman & CEO of TV Asia Group, Mr Shah heads a veritable powerhouse of several business verticals spanning the media and entertainment landscape in North America, with presence in the television, OTT, IPTV, radio, print, digital, ecommerce and events marketplace.
Mr Shah is the first NRI to own and operate a 24/7 TV station, TV Asia, launched in 1993 by legendary actor Amitabh Bachchan, in the United States, Canada and the Caribbean. He is credited with pioneering Indian television and entertainment in the Western hemisphere. Using mass media as his tool of influence and with 38 news bureaus in North America currently, his vision is to expand to 60 news bureaus across the world. This, he believes, will serve his mission to preserve, support and promote Indian heritage for present and future generations of the Indian Diaspora settled across the globe, making TV Asia the "voice and mirror of the community." TV Asia has long been known as the Indian community's "Home Away from Home." The channel works closely with Indian Consulates in the US in their outreach programs for the Indian American community.
For over 35 years, Mr Shah has generously given his time, energy and resources as a pillar of the Indian American community, always supporting various social work, cultural, educational and related activities in the US and India. He has been a major supporter and has given strong backing to many worthy causes.
He is the chairman and trustee of Bharatiya Vidya Bhawan USA, the world famous institute of Indian culture, literature, education, music and the arts. The Bhawan has dedicated an auditorium, "Romanti Auditorium," in memory of his late daughter.
In 2017, Mr Shah received the Padma Shri, one of Indian government's highest civilian awards.
He also received the prestigious Ellis Island Medal of Honor in 2005. The award is bestowed only on those who display significant contributions to their own communities and to the United States at large. The US House of Representatives and the Senate both unanimously passed resolutions sanctioning the Ellis Island Medals of Honor. Each honoree is listed in the Congressional Record.
Additionally, Mr Shah is the recipient of numerous community and business awards in the US as well as India.
During the 4-hour long convocation at Desh Bhagat University, around 1,200 students received degrees, diplomas and medals in various courses, including, Agriculture Sciences, Animation, Applied Sciences, Art & Craft and Fashion Technology, Ayurveda, Commerce, Computer Sciences, Education, Engineering, Hospitality and Tourism, Hotel Management, Languages, Management, Media, Nursing, Performing Arts, Physical Education and Social Sciences. The university offers more than 150 graduate and undergraduate courses and has an enrollment of over 8,000 students.
In his acceptance speech, Mr Shah extended his sincere appreciation for Chancellor Dr Zora Singh and his staff and the meaningful work the university was pursuing. "I commend Dr Zora Singh for his vision and leadership in steering the university with new ideas while being socially responsible and giving the students a great educational platform," he noted.
Mr Shah touched upon how India's economic development and transformation was intrinsically linked to education, skilling, entrepreneurship, research and innovation. "I am very happy to read the vision of the university which is in line with the same," he said.
He underlined the pivotal role educational institutions played in imparting socially responsible perspective to the students.
"I appreciate the role of the University and its faculty for imparting the 'Education for Life' and not education for living only," he said to a thundering applause.
He noted the graduating students will always remain "stars" with their contributions to their families, society and the nation. He also underscored the importance of families and parents who have always sacrificed for their children's education.
In a heart-to-heart with the graduating students, Mr Shah said that while convocation signified the culmination of the phase of formal education, it also symbolized the beginning of a new journey. "Today's ceremony is also called 'Commencement' and I take it as a Commencement of lifelong learning," he concluded.
On the sidelines of the convocation, Mr Shah discussed with Chief Minister Chamling about the need to promote Sikkim tourism to the Indian Diaspora in the US as well as across the world. Mr Shah also spoke with Dr. Jagannath Patnaik, Vice Chancellor of ICFAI University, Sikkim, about collaborating with American universities for exchange of programs, research and faculty development.
In his meeting with Desh Bhagat University Chancellor  Dr Zora Singh, Mr Shah discussed how the university should look into transfer of courses and credits for students from US educational institutions.
About Desh Bhagat University.
Desh Bhagat University (DBU) located at Amloh, Punjab has been established under Punjab Governments' Desh Bhagat University Act, 2012. DBU has  its four campuses in India –  at Amloh, Shri Muktsar Sahib, Moga and Chandigarh and an international campus  in Kenya.
Desh Bhagat University, Amloh came into existence  under the guidance of Sardar  Lal Singh, a freedom fighter.
The university offers more than 350 courses in almost 50 various streams at undergraduate, graduate, post-graduate and doctorate level. It is affiliated with UGC, AIU, NCTE, PCI, COA, and BCI.
As for ranking, it stands 2nd  amongst all State Private Universities of Punjab.