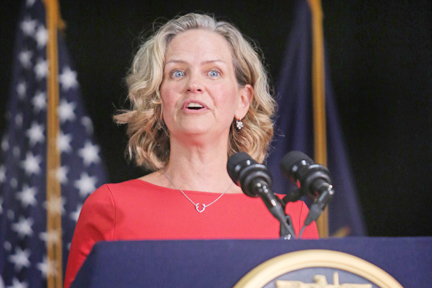 The program will give up to $2,500 a month for three months to people who can't pay their rent because of the pandemic.
MINEOLA, NY (TIP)  Nassau County Executive Laura Curran announced a new program  that will give assistance to hundreds of people in the county struggling to pay their rent due to the coronavirus pandemic. The program will use $6 million in federal Community Development Block Grants to give 900 renters up to $2,500 a month for three months to help them pay their rent if they've been unable to make payments due to the coronavirus.
"We all are reading about the new federal stimulus deal. I think it's a good start," said Curran. "But as it relates to housing, there's a lot to sort out. We at the counties are closer to the ground, and we don't want to waste time getting help to the folks who need it." The program will be overseen by the Community Development Corporation of Long Island (CDCLI), which is aiming to create "as streamlined a process as possible," according to Gwen O'Shea, president and CEO of CDCLI.
Starting this week, applicants will be able to fill out a form online or call a 1-800 number to speak to CDCLI staff. There will be staff to help people speaking English, Spanish and Creole.
"We'll have that available for a few weeks," said O'Shea. "We want to give everyone a chance to learn about the program, to feel comfortable with the program, and then to submit some preliminary information."
Once applications are submitted, CDCLI will be holding a lottery to pick the 900 people to receive the aid. They will then have to finish the application process to get the money. "We recognize the need in Nassau County far exceeds the resources currently available," O'Shea said. "We recognize that Nassau County is one of the most expensive places to live in the country. And that while many households are struggling, this program does, as the county executive noted, strive to support working households that were maybe struggling before, and their issues have been compounded by the pandemic." Nassau County has used the CDBG throughout the pandemic to support groups. Curran said the county has helped feed more than 30,000 families, given financial relief to restaurants, loans to small businesses and distributed PPE as well. "It is our hope that this rent relief significantly minimizes the financial burden, and the stress, that so many of our families and our landlords are facing right now," Curran said.