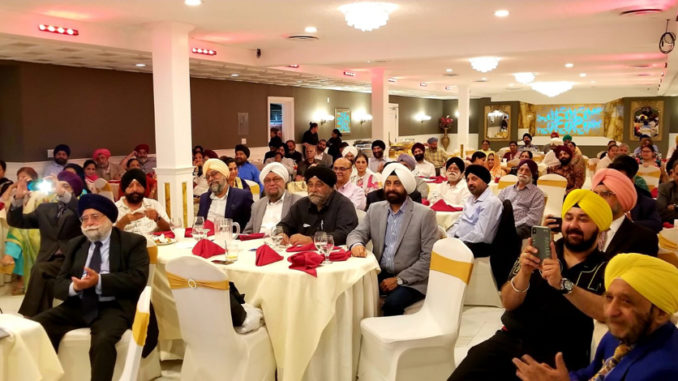 JERICHO , NY (TIP) : Dr. Rajwant Singh who  is making a documentary on Shri Guru Nanak Dev Ji to mark the 550th birth anniversary of the founder of Sikhism, the newest and the fifth largest religion of the world, with a following of more than 25 million the world over, was in town to mobilize resources for his project.
On Sunday, June 2, Dr. Rajwant met with the Sikh community leaders on Long Island and spoke  spoke about the documentary and appealed for financial support for the project. The ever generous and philanthropic community did not disappoint him.
Dr. Rajwant Singh, Chair, Sikh Council on Religion & Education (SCORE) and the driving force behind National Sikh Campaign speaking about the project of a documentary on Shri Guru Nanak Dev Ji, in Jericho , Sunday, June 2At the fundraising for Dr. Rajwant Singh's National Sikh Campaign, organized by Gurinderpal Singh Josan, Founder-President of Sikhs in America, Chairman Paramjit Singh Bedi, Vice Chairman Mohinder Singh Taneja, Vice President Brij Mohan Singh Nanda, and with the support of Surinder Singh Chawla, Dr.  Avtar Singh Tinna, Satnam Singh Parhar, Zinda Singh, SBJ Singh  and Virender Singh Sikka, among others, nearly $70,000 was raised, with commitment for more from some. Well known numerologist and astrologer Prem Jyotish pledged to meet the entire cost of post- production promotion of documentary.
Dr. Rajwant Singh is also a  passionate environmentalist who has brought about a paradigm shift in the attitude of people of PUNJAB in India towards protection of  Environment by involving thousands of volunteers to plant hundreds and thousands of trees.