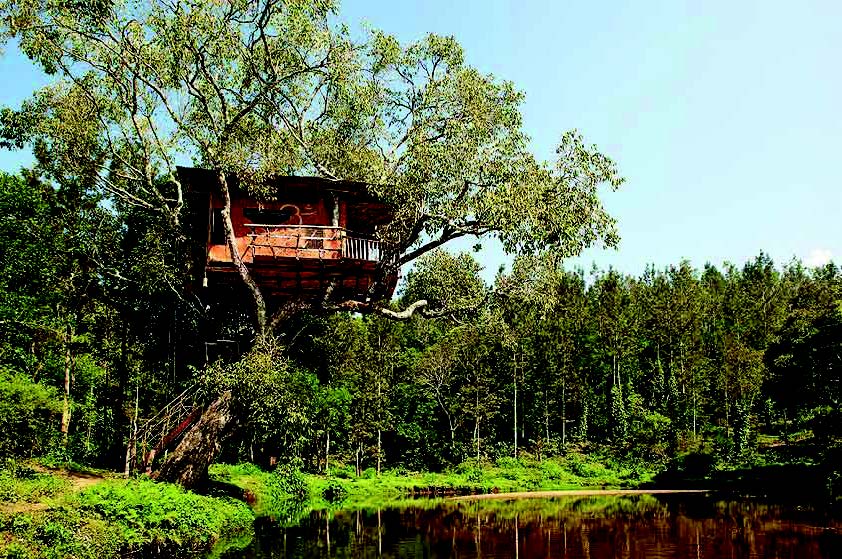 Before you start getting ideas from the heading, let me clarify that we will be discussing a totally different form of wild. Goa is more than just pristine beaches, feni, floating casinos and a happening nightlife. Being a place of immense natural beauty, the state is endowed with breathtaking wilderness and there are more places to visit in Goa, which are perfect for someone who wants to get out of a mundane week and get into something peaceful.
[inlinetweet prefix="Travel" tweeter="" suffix=""]MHADEI WILDLIFE SANCTUARY[/inlinetweet]
Mhadei Wildlife Sanctuary is located in the eastern part of Goa. Spread in around 208 sq km, this sanctuary supports a wide variety of wildlife and is famous as a bird watcher's paradise. It is considered as an International Bird Area, and is home to 255 bird species, including Nilgiri wood-pigeon and crimson-backed sunbird. Visitors can also see over 257-recorded species of butterflies flutter around. Owing to the presence of resident Bengal tigers, the sanctuary has been proposed as a tiger reserve. Along with the diverse fauna, it is also popular for its variety of flora that includes sacred grooves, creepers, evergreen species of Ashoka and colourful flowers, among others. Besides its unique biodiversity, Mhadei Wildlife Sanctuary is also popular for its cascades, especially Vazra Sakla waterfalls and Virdi Falls.
[inlinetweet prefix="" tweeter="" suffix=""]SALIM ALI BIRD SANCTUARY[/inlinetweet]
Salim Ali Bird Sanctuary, named after the famous ornithologist, is located on the island of Chorao along the Mandovi River. Spread in an area of 440 acres, the sanctuary is covered with a thick mangrove forest, which is usually a natural nesting ground of birds. Different varieties of swallows, bulbuls, kingfishers, swans, woodpeckers, hornbills, etc. are found in plenty at this place.
The sanctuary has 1km-long pathway on which one can walk as close as possible to see the natural habitat of birds, without disturbing them. One can also choose to hire a boat and go around the place.
[inlinetweet prefix="" tweeter="" suffix=""]COTIGAO WILDLIFE SANCTUARY[/inlinetweet]
Located 60 km south of Panaji, Cotigao Wildlife Sanctuary is the second largest in Goa. This sanctuary is notable for its dense forest cover with trees as high as 30m and is a haven for tree lovers. The Talpona River flows through the area and the major watering holes are located on its back. There are fewer big animals in this sanctuary than Mollem, however one can still expect to see bears, wild boars, deer and monkeys. Birds are plentiful in general and some species of eagles, which are not easily spotted elsewhere, can be seen here. Several tribal communities live inside these forests and one can get an insight into their fast fading lifestyle.
[inlinetweet prefix="" tweeter="" suffix=""]DUDHSAGAR FALLS[/inlinetweet]
One of the important destinations within Bhagwan Mahaveer Sanctuary is the Dudhsagar Falls. Of the numerous waterfalls in the Western Ghats, this is one of the most impressive and is the second highest in India after the Jog Falls. The trip involves a short hike on the road and requires a minimum of fitness. The best season to see the falls is in the monsoons, soon after the rains.
[inlinetweet prefix="Travel" tweeter="" suffix=""]BHAGWAN MAHAVEER SANCTUARY[/inlinetweet]
With an area of more than 240 sq km, this park happens to be the largest wildlife sanctuary in Goa. It was earlier called Mollem Game Sanctuary and was renamed to the current one in 1969. However, the core area is still called Mollem National Park. Nestled in the Western Ghats, the sanctuary is home to pristine evergreen, semi evergreen and deciduous forests at different altitudes. The fauna includes the rare black panther, varieties of deer, bison, several members of the primate family, porcupines and a number of species of resident and migratory birds. It is also home to a great variety of butterflies.
The sanctuary contains several natural and historical attractions that make this the largest protected area. Some of them are Dudhsagar Falls, Tambdi Falls, Devil's Canyon and ancient Kadamba Temples.
Bhagwan Mahaveer Sanctuary is 63 km from Panaji and can be reached by road or train from the capital or Margao. To go around, vehicles are provided by the Forest Department at economical rates. One can get more idea from Goa tourism.