6th January
1846       Battle of Budowal between Sikhs and British.
1989       Sirdar Satwant Singh and Kehar Singh hanged for gunning down Indira Gandhi. As Prime Minister of India, she had ordered the June 1984 attack on Harimandir Sahib by the Indian Armed Forces.
Sardar Satwant Singh and Sardar Kehar Singh were hanged till death. They were co-accused with Sardar Beant Singh for gunning down Indira Gandhi on October 31, 1984. Sikh Panth holds Indira Gandhi, then Prime Minister of India, responsible for the dessicration of Harminder Sahib in 1984's Bluestar operation.
7th January
1924: 62 members of the SGPC were arrested from the precincts of Sri Darbar Sahib under Section 120, 121 (2) Indian Penal Code (Sedition) and Section 17A and 17B of the Act of 1908 by Special order of Punjab Governor.
1974: Through the efforts of Bhai Sahib Harbhajan Singh Yogi, the US Army Dress Code was amended to allow Sihs to wear beards and turbans and to maintain the five Kakkars.
8th January
1685       Baba Aalla Singh, founder of Patiala State, was born.BABA AALLA SINGH JI was born in village Phull to father Baba Ram Singh "Phulwansi" and mother Saabhi. He was introduced to amrit by Baba Deep Singh Ji, in TheekriWalae village. In sunmat 1810, he laid the foundation stone of a temporary structure for the Patiala fort while the construction of a permanent structure began in sunmat 1820. Simultaneously he founded the Patiala city. Barnala, Longowal, Sunaam, Bathinda, and Patiala were under his control. He passed away on 22nd Aug. 1765 in Patiala.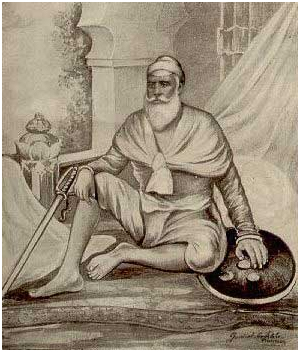 9th January
1961       Fateh Singh broke his fast after assurances regarding Punjabi Suba from the Indian Government.
1983       Akali Dal organized a convention for GurSikh intellectuals in connection with the Dharam Yudh Morcha.
10th January
1770       Sikhs attack Delhi from Panipat side.
1943       Harbans Singh Babbar of Sirhala was arrested.
11th January
1666: Guru Tegh Bahadur Ji released from prison.
1843: A friendship treaty was signed between Maharaja Sher Singh and Amir Dost Mohamed Khan, ruler of Kabul. This treat was signed during Mohamed Khan's visit to Lahore.
1915: Giani Mewa Singh Lopokae hanged until death.
12th January
1758       Baba Aalla Singh attacked Abdul Samand Khan of Sirhind and reached a mutual agreement.
1797       Shah Zaman lost 20,000 soldiers against Sikhs in a battle in Amritsar during his 3rd invassion. In a reckless hand-to-hand fighting at Amritsar, Shah Zaman lost 20,000 of his choicest solidiers against 15,000 Sikhs. During his 3rd invassion, Shah Zaman reached Peshawar in Nov. 1796 and entered Lahore in Jan. 1797. Sikh Sardars vacated Lahore and assembled at Amritsar to face Shah Zaman. Shah Zaman was defeated at Amritsar and returned to Lahore. The Sikhs pusued the retreating Afghans upto the outskirts of Lahore. Ranjit Singh with his 9000 troops was made responsible for security of the holy city. This marked the begining of the rise of Ranjit Singh. Sikhs cut off his supply lines and forced Shah Zaman to returned back.
1922       British government announced its decision to finally withdraw from the management of the Drabar Sahib at Amritsar. The British government announced its decision to finally withdraw from the management of Sri Darbar Sahib at Amritsar and leave the administration in the hands of the Sikh community. The government had mistakingly belived that the Sikh community wanted to use the Gurudwara resources for political purposes. Despite its intense efforts, it found no Sikh willing to accept the office of Sarbrah at its hands. Finally, the government was left with no option but to negotiate with the SGPC, conceding the demands of Baba Kharak Singh, the uncrowned King of the Sikhs.
1922       The Akalis under Mula Singh Bahowal took control of Anandpur Sahib.
1922       The militant Akalis under Kishan Singh Garhgaj helped capture the Gurudwara of Kiratpur Sahib. Akalis forcibly captured the Kirtapur Gurdwara, despite the SGPC's disapproval of such measures. The Akalis were helped by the Chakravarti Jatha under the leadership of Kishan Singh Garhgaj.
1923       Letters of the soldiers published in Babbar Akalis Doaba newspaper. These letters expressed the gist of their talks with District Commissioner of Jalandhar.
1982       Harsimran Singh, Chief organizer of Dal Khalsa, arrested. Harsimran Singh, Mukh Panch (chief Organiser) of the Dal Khalsa was arrested from Mohali near Chandigarh. The Dal Khalsa leaders believed that that was possible because of a conspiracy by some member of the Organisation. Harsimran Singh was tortured by the police and forced to read out a written statement if he wanted to save his life. The police told him that they had the permission of the Government to kill him in a fake encounter near the Indo-Pakistan border. Such atrocities were perpetrated on various Sikhs arrested during that period.