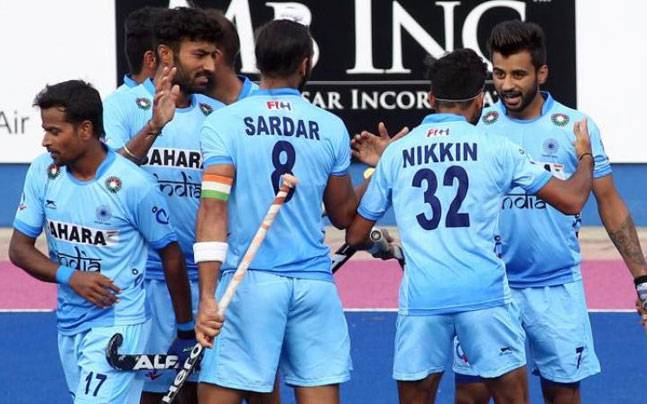 NEW DELHI (TIP): The Indian men's hockey team got their first win of the Four Nations Invitational Tournament by beating 14th-ranked Malaysia 4-2 in Melbourne on Nov 25. A day after losing to world No 1 Australia 2-3, VR Raghunath's team bounced back through goals to Nikkin Thimmaiah (21′, 55′), Rupinder Pal Singh (40′) and Akashdeep Singh (56′) plus an improved display from goalkeeper Akash Chikte for the three quarters he was custodian.
India next play New Zealand on November 26 at 11:30am IST in what is a must-win game.
Much like Australia did on Wednesday, Malaysia worked their way back into the game after India dominated the first quarter but the difference for India today was that Rupinder found more support and was crucially able to quickly put the Asian champions back in the lead after Faizal Saari drew level in the 39th minute. The second crucial passage came in the last few minutes, when Thimmaiah and Akashdeep scored in succession to overturn a 2-2 deadlock into an irreversible 4-2 lead.
India, ranked sixth in the world, did most of the attacking in the early moments and proceeded to keep Malaysia largely in their own defensive half during the first quarter, with Sardar Singh and youngster Affan Yousuf producing some special play. Malaysia had one solid opportunity to score in the 11th minute but a brilliant save from goalkeeper Akash Chikte denied Ramadan Rosli from the right corner. That was the only real chance that India's defenders allowed their opponents in the first quarter, though Malaysia did mount more pressure than in the first few minutes.
In the 24th minute, just seconds after Birendra Lakra fed Affan a great chance from the left corner that wasn't capitalized on and resulted in a foul, Nikkin Thimmaiah slotted a fierce shot into the back of the net to give India the advantage.
Malaysia equalized midway through the third quarter, with Saari using their first penalty corner to slot in a superb goal, but less than a minute later an unstoppable PC from Rupinder made it 2-1. Credit for this goal also goes to Sardar, who fed a lovely pass to India's drag-flick expert. Behind the line, there was further excellence from Lakra who stopped a strong reverse flick from Rosli that beat Chikte.
India's familiar nerves came to the fore during the last 15 minutes, but thanks to strikes from Thimmaiah and Akashdeep Singh in the span of seconds the result was a positive one. Abhinav Pandey took over from Chikte as goalkeeper and just moments into the last quarter, was left exposed as Shahril Saabah broke through with a PC goal in the 47th minute. Then were fumbles from Akashdeep and Satbir Singh too, but some great team-work from Sardar and Thimmaiah ensured India went up 3-2 in the 55th, with the latter finishing excellently. Then it was Akashdeep's turn to strike, and his superb reverse hit made it 4-2.
(PTI)