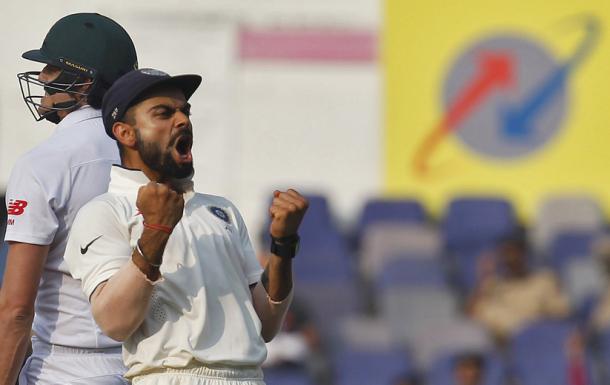 NAGPUR (TIP): While India have generally struggled to get 20 wickets abroad, they have had no such problems at home, where Ravichandran Ashwin and Co. have been doing a great job.
Two years ago, Australia's batting was destroyed by the Ashwin-Jadeja combine. A hapless West Indies were no match for the quality Indian attack and now South Africa, the No.1 Test side in the world, have lost their first away series in nine years.
The best bowling attacks have personnel capable of hunting in pairs and applying relentless pressure from both ends. Although Ashwin and Co. have had plenty of help from the pitches, they have risen to the challenge of utilizing the conditions to their advantage.
The trio of Ashwin, Jadeja and Amit Mishra have been proficient in judging the pitch, its pace and the amount of turn on offer and have bowled accordingly. When Hashim Amla and Faf du Plessis were batting on Friday, there were no freebies on offer -only 45 runs came off 31 overs in the second session.
By picking 47 out of 50 South African wickets in the series, they have stamped their authority and dominance. "It's a big plus to have those quality spinners. Two out of the three are very, very consistent and Amit Mishra, for a leg-spinner, is very, very economical, which is not a regular sight," said Indian captain Virat Kohli.
The trio of Ashwin, Jadeja and Amit Mishra have been proficient in judging the pitch. (AFP Photo)
"Mishra is someone who knows his bowling, he knows his variations and he knows where to pitch the ball. It's a delight to have all three in the squad. All three bowling well in Indian conditions is an advantage and a big threat to the opposition. I am happy all three are in rhythm. I am really happy for Jadeja, because he is making a comeback," Kohli said about the architects of India's series win.
As South Africa coach Russell Domingo pointed out, the consistency and accuracy of India's spinners -as op posed to their South African counterparts -tilted the game in the host's favour. "I think the Indian spinners have landed the ball more consistently than our spinners, and asked questions for a longer period of time.
"We have landed the ball on good areas for two or three overs. They have landed the ball in good areas for eight or nine overs and that has been the difference."