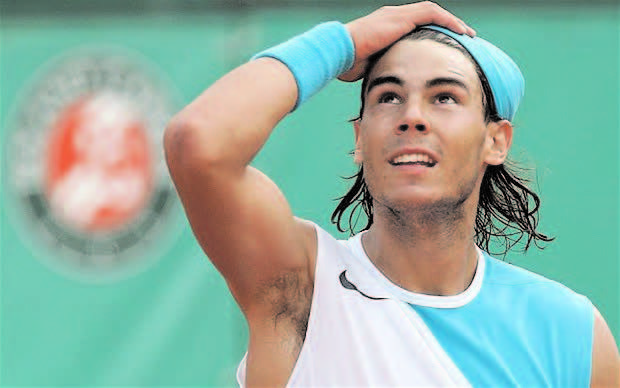 PARIS (TIP): Rafael Nadal and the other members of the "big four" know that a new band of brash youngsters are on the horizon, but the Spaniard showed on May 29 they will not be handing over the keys to the game's trophy cabinet just yet.
The Spaniard was up against Austrian wunderkind Dominic Thiem in the second round of the French Open and while the 6-2, 6-2, 6-3 scoreline did not do his opponent justice, Nadal was clearly the master as he took another step towards a record-extending ninth title at the claycourt slam. World number one Nadal raised his game significantly to snuff out any chance of an upset, fending off a mini crisis in the third set when 20-year-old Thiem began to threaten.
At nearly 28, 13-time Grand Slam champion Nadal knows his career is probably entering the final chapters, but says any takeover at the top is not imminent. "Our generation is now on the way out, you know, like Murray, Djokovic, Ferrer, and Berdych and others, and Tsonga, as well, we have been here for a long while," Nadal told reporters. generation is walking away and others will replace us. It will not come overnight, but it will come. "I am almost 28.
Djokovic and Andy are 27. Federer is, I don't know, 32. The new generation, new players, have to come. We're not gonna be here for 10 more years." That is for the future though and for now Nadal only has eyes on adding another Roland Garros title to his CV. After a patchy, but his own high standards, claycourt season he was pleased to move up a notch against Thiem.
"I played the way I wanted to play. I resisted when he was going for his shots, very powerful forehand and a good backhand, " Nadal, who will face Argentine Leonardo Mayer next, said. "When I had to play long points I did well. When I had to attack and move him, I think I did well. "I went to the net a few times. I'm happy that the way I returned today." It was indeed more like the Nadal that has been virtually unbeatable for a decade.
BRICKWALL DEFENCE His forehand was spinning cruelly, his defence was brickwall and his determination unquenchable. Thiem's booming groundstrokes, particulaly his inside-out forehand, caused Nadal trouble but Nadal too often had the extra shot and after recovering from a break down in the third set he sealed the win on his second match point.
"He lost one match here in 10 years or something, so I knew that it was going be the biggest challenge in my tennis career," said Thiem. "I will be learning a lot from today's match, for sure. It's really important to play against these guys a lot, against these top guys, because it's more important than every practice, I think.
I hope I can take a lot with me from this match." Thiem, who stunned Australian Open champion Stanislas Wawrinka in the second round of the Madrid Masters this month, looks on his way to the top and Nadal was impressed. "The normal thing is Dominic will be there in a short period of time, and he will have his chances to become a top star and fight for these tournaments," he said.