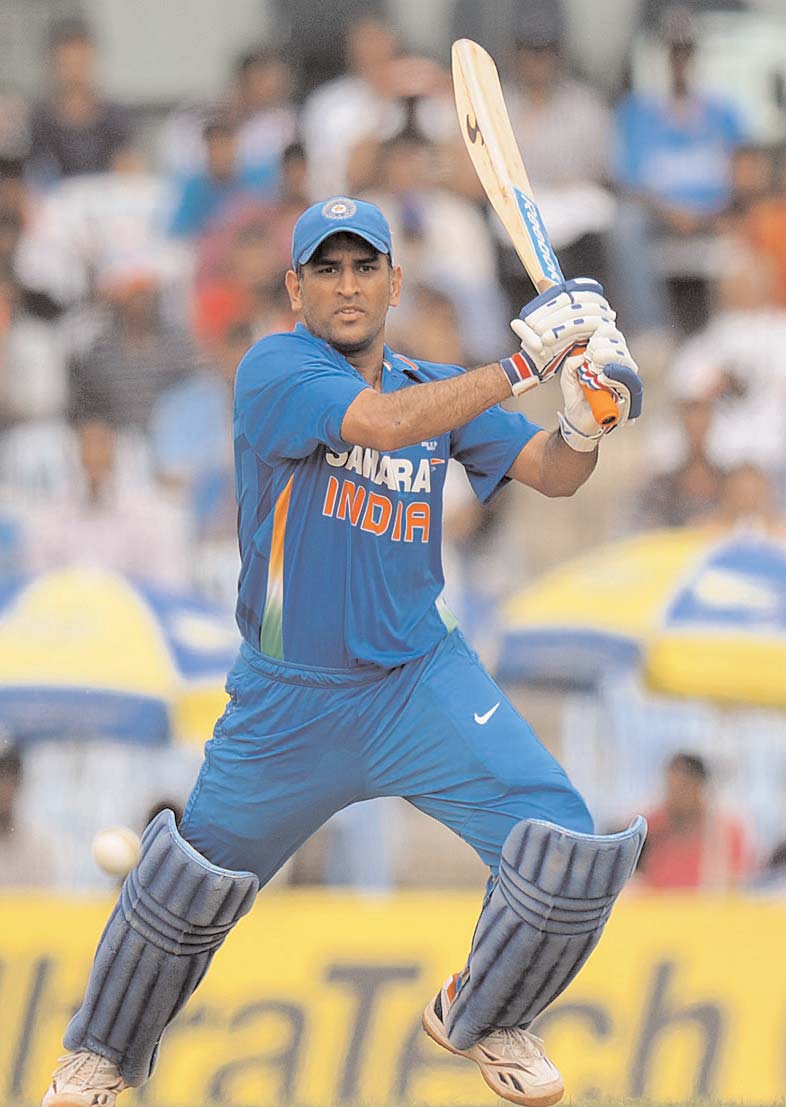 RANCHI (TIP): Anything close to 300-run mark is always tough to chase down but India captain Mahendra Singh Dhoni backed his batsmen to overhaul the 296-run target set by Australia in the fourth ODI which was called off due to rain on October 23. Dhoni said all that his side would have needed was a good start to chase down the target after Australia made 295 for eight after being asked to bat at the JSCA Stadium. "It depended on the first 15 overs, on the start we get. If we didn't lose too many wickets the pitch would have become better to bat on," he said after the match was washed out. India were 27 for no loss in 4.1 overs when heavens opened up for the second time during the match. The match was stopped at 6.18 pm because of light drizzle which later intensified, making the ground unplayable. The match was called off after the umpires found out that the ground was too water logged to continue the proceedings. "The weather is not in our control. To some extent you are a bit disappointed, but whatever result it was we have to accept it. We wouldn't have minded a 20 over game with the start we had," Dhoni said. The Indian skipper was full of praise for fast bowler Mohammed Shami (3/42) who impressed with his deceptive bowling. "He (Shami) is deceptive. He bowls quicker than you think. What was important was he bowled full and the wickets he got, he was hitting the bails," Dhoni said.
"In the death he was getting the yorkers in pretty consistently. I know they will come back strong." India's fielding was not up to the mark today as they dropped as many as six catches, but Dhoni backed his butterfingered fielders to come back strongly in the next match. "At times it happens, some of the stadiums it is difficult to sight the ball," he said. Australian captain George Bailey, who top-scored for his team with a 94-ball 98, also expressed disappointment with the wash out. "It could have been a reasonably good game of cricket. We snuck away with the bat, thanks to Glenn Maxwell's innings. There was a little bit of swing and seam and he assessed the conditions well, especially considering he had to bat longer than he is normally used to," he said. With a lively pitch on offer, Bailey said he backed his side to win the match. "We fancied our chances, with the pitch providing a bit of seam and pace and Mitch ( Mitchell Johnson) was getting it to go," he said. "But it's obviously important to be in the lead in any series and hopefully we'll get to Cuttack and get a good game in and get a win."
Watch out for Shami:
Bailey Rattled by Mohammed Shami's threewicket burst with the new ball in the abandoned fourth ODI, Australian skipper George Bailey has instructed his batsmen to watch out for the rookie Indian pacer in the remaining games of the ongoing sevenmatch series. Taken aback by Shami's pace and swing, Bailey said: "Obviously Shami bowled very well. He's someone we haven't seen in the series and he was a little bit quicker than what we expected. He certainly got movement off the seam," Bailey told reporters after the fourth one-dayer at the JSCA Stadium on Wednesday. "That's something to be pretty aware of for the rest of the series. That's obviously what's going to be coming at us," he said. Shami rocked the Australian top-order but half-centuries from Bailey (98) and Glenn Maxwell (92) in a record 153-run fifth wicket stand enabled them to post a challenging 295/8. However, rain played spoilsport when India were 27 for no loss after 4.1 overs and the match was abandoned with Australia continuing to lead the series 2-1. Amassing 318 runs, Bailey on October 23 became the first Australia skipper to go past 300 in any bilateral ODI series. Yet a modest Bailey said it was ridiculous for him to think of making to the Ashes squad in the Australian summer. "I think there's probably eight guys who have got a chance of playing in that Ashes team. It's so far away. It's just ridiculous to look at it," Bailey said. "There are guys who will be at home playing Shield cricket, we've got Australia A games when we get back. It's a completely different format. I don't think there's anyone out playing in these games thinking about that series." Asked whether he had any special preparation for the series in India, Bailey said: "I didn't do anything different. I think coming over here you focus a little bit more on how you're going to play spin, because India have good spinners. "It's important to be at the top of your game there. I'd done a lot of that leading into England as well, so that wasn't too much different."
The lower-order added just 57 runs in the last 10 overs as Australia posted a less than 300-plus total for the first time in the series but Bailey begged to differ in his assessment. "I actually thought we played really really smartly in the last 10 overs. We were two or three wickets further down than we wanted to be. So it was really important that James (Faulkner) and Mitch ( Mitchell Johnson) actually got us into the latter part of that innings. "If we'd lost one of them there then 295 would've been 250 or 260. It was really important that they actually took some time out of the game and continued to score. I thought they played it better than I expected." Standing in as skipper in the absence of an injured Michael Clarke, Bailey has impressed one and all with his smart captaincy and he attributed this to his Tasmanian skipper Dan Marsh. "I learnt a lot from him. He's now the Tasmanian coach. Both temperament, the way he communicated, his knowledge of the game, I don't think I'll ever have that but I certainly learnt a lot and continue to learn a lot off him," Bailey said. The 31-year-old also said he had learnt a lot from Ricky Ponting and Clarke. "I think you take little bits from absolutely everyone you play. Playing a year with Ricky last year was fantastic, just to see how he was around the group and how hard he trained, how he communicated with guys and how much he backed his own team was great. "And I've loved playing under Pup too. From everyone you play under and everyone you play with, you learn so much. There's so much to learn if you're willing," he signed off.
Rains travel with teams
Even as India and Australia teams arrived in Bhubaneswar on October 24 afternoon amid cheers of cricket enthusiasts and were given a warm welcome, rain continued to play havoc at the Barabati stadium in Cuttack for the fifth day on the trot. The teams are scheduled to play the fifth ODI of the 7-match series in Cuttack on October 26. While curator Pankaj Patnaik and his 50 odd staff members were elated to see clear skies in the morning and were working on war footing to get the outfield in order at the Barabati Stadium, after 9.30 am it started pouring again which continued till late afternoon, much to the frustration of the groundstaff. Quizzed about the ground conditions, Patnaik said, "We are helpless if rain does not stop. The continuous rain for last 4-5 days has even raised water level of the drain outside the stadium. So even if we pump out water from the ground, where does it go?" Asked if it would be possible to have nets at the venue on Friday, the curator said, "It would not be possible on the outfield. But we have five pitches at the centre and we can devote two of those for practice if there is no rain from Friday." He informed that the pitch and the area within the 30-yard circle has been covered. If there is hot sun on Friday and no rain there would be no problem in having a full match.