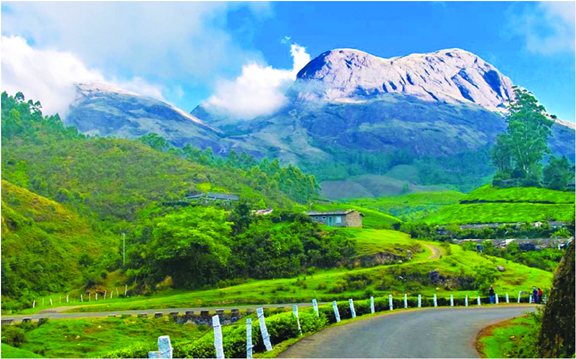 Popularly known as "God's Own Country", Kerala is one of the most sought after tourist destinations in the world. This exotic land is renowned for its rich cultural heritage, tropical climate, palm fringed beaches, misty hill stations, health resorts, wild life sanctuaries, enchanting art forms, grand festivals and, the serenity of the backwaters and the emerald blue Arabian Sea which promise an unforgettable holidaying experience to travellers. According to "National Geographic Travel", the leading travel Magazine, Kerala is one of the 50 must see destinations of a lifetime and one of the 10 paradises of the World.
Top Places to Visit
Munnar
Munnar is a popular hill station of Kerala perched at an altitude of 1600 metres in the Western Ghats. Famous for its tea estates, various shades of green, blankets of mist forming natural-view points, Munnar is aptly known as the 'Kashmir of South India'.
Munnar is a popular destination for a honeymoon with an abundance of resorts and cottages. Situated on the banks of three rivers- Madupetti, Nallathanni and Periavaru.
Munnar is divided into Old Munnar, where the tourist information office is, and Munnar, where the bus station and most guest houses are located. The Eravikulam National Park, Salim Ali Bird Sanctuary and tea plantations are its major attractions.
Alleppey
Officially called Alappuzha, Alleppey is the picture-perfect place known for its beautiful backwaters and the houseboats offering overnight stays. The coastline of Alleppey offers some of the best beaches in Kerala with water sports during the dry season.
Alleppey is located close to Kochi in the South Indian state of Kerala. Its palm-fringed inter-connect network of canal backwaters attracts a lot of tourists from all over the world. Coupled with other beautiful places in Kerala, Alleppey is often considered for a honeymoon or for a great family vacation.
There are plenty of houseboats, homestays, and rejuvenating Ayurvedic resorts that make staying in Alleppey brilliant. The houseboats pass through the serene backwaters, where you can catch glimpses of green paddy fields, choir-making activities, beautiful avifauna, and witness the life of locals in Kerala.
Be sure to catch a traditional snake boat race in the months of August and September and try out some toddy (palm wine) at a local toddy shop for adding a touch of authenticity to your travel experience in Allepey.
Wayanad
Replete with waterfalls, historical caves, comfortable resorts and homestays, Wayanad in Kerala is famous for its spice plantations and wildlife. Walking through the sprawling spice plantations, trekking to the pre-historic caves and experiencing a resort holiday are one of the many things you can do to get a taste of Wayanad.
Wayanad is best known for the wildlife reserves – Wayanad wildlife reserve which is home to an exquisite variety of flora and fauna. Wayanad wildlife reserve is an integral part of the Nilgiri biosphere reserve peacefully located amidst the serene hills of Western Ghats. Wayanad homes a wide variety of wildlife like elephants, leopards, and bears. Wayanad is a perfect weekend idea from the cities of South India. If taking a road trip from Bangalore, you will drive through three national parks: Nagarhole, Bandipur and Mudumalai.
Thekkady
Home to the country's largest Tiger Reserve- Periyar, Thekkady is a great way to enjoy a jungle vacation. Periyar National Park, being a major attraction, is one place where you can enjoy bamboo rafting in the catchment area of Mullaiperiyar Dam, hiking, and in the midst of the wilderness, shopping! Popular for its good eating joints, you can also enjoy its vast stretches of spice gardens and various adventure sports. You can also enjoy a night trek in the wilderness of Periyar. The early morning ride in the boat within the sanctuary is an extremely awesome experience and you might be able to spot wild elephants, bisons, wild boars, various kinds of birds, etc. Anakarra is also located nearby which is a great place to enjoy nature. Murikaddy is located around 5 km from the city and is famous for coffee and spices plantations. Chellar Kovil is another area located nearby with a lot of picturesque waterfalls and cascades. Mangala Devi Temple, located at an altitude of 1337 m and at a distance of around 15km from Thekkady opens only on the Chitra Pournami Festival.
Varkala
Varkala is a coastal town in the southern part of Kerala known for the unique 15m high 'Northern Cliff' adjacent to the Arabian Sea. It is popular for its hippie culture, shacks on the cliff serving great seafood and playing global music and the samadhi of Kerala's saint Sree Narayana Guru. Varkala is also known for Jardana Swami Temple, also known as Dakshin Kashi. Varkala has some of the best pristine beaches, hills, lakes, forts, lighthouses, natural fisheries and springs – all of this together makes this town a little paradise. You will also find a lot of shops with signboards in Hebrew selling Yoga mats, oxidised silver jewellery and harem pants made of cotton. Ayurvedic spas, affordable resorts, hostels, clean beaches make it a must-visit city of Kerala.
Poovar
Poovar is a small rustic town situated 27 kms from Thiruvananthapuram with unspoilt, unexplored golden sand beaches and beautiful backwaters of Kerala. Also known as a fishing village, the tranquil Poovar island lies between the Arabian Sea and the Neyyar River. Hiring a boat, (especially during the sunset)that will take you through the mangrove forest of backwaters is a must-do activity. The town has some of the beautiful resorts and hotels that are known for the hospitality they offer.