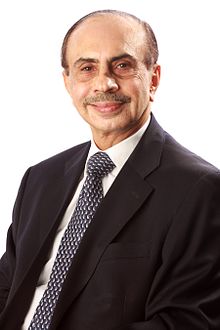 WASHINGTON (TIP): The U.S.-India Business Council (USIBC) announced that Chairman and CEO of The Dow Chemical Company Andrew Liveris and Chairman of the Godrej Group Adi Godrej will be honored with the 2017 USIBC Global Leadership Award. Vice President Mike Pence will address its 42nd Annual Leadership Summit in Washington, D.C. The Annual Leadership Summit is USIBC's signature event, drawing top business and government leaders and serves as a forum for engaging in discussions on deepening U.S.-India commercial ties.
During the summit, USIBC will also present its "2017 Global Leadership Awards" to Andrew Liveris, Chairman and CEO of The Dow Chemical Company, and Adi Godrej, Chairman of the Godrej Group for creating inclusive business environments, integrating India in the global supply chain and advancing core values such as manufacturing, innovation and scale in tough market conditions. The Council's annual summit will bring together stakeholders including government and private sector leaders, and top media figures to discuss the bilateral relationship and chart a way forward. With the transition in the U.S. government, the Council has taken a lead role in sustaining the momentum of the U.S.-India bilateral ties.
USIBC President Mukesh Aghi said, "The Council believes that this is a vibrant period for the two nations and the growing partnership is deeper and broader than ever before. We expect the upward trajectory to continue."
The Council's 42nd Anniversary summit will highlight: (1) The important role of private sector in advancing the ties between the two countries; (2) Future of U.S.-India Trade relationship; (3) Strengthening and deepening of defense partnership. Executive Chairman of Cisco and USIBC Chairman John Chambers will provide the State of the Council address, reflecting on the growth and potential of the U.S.-India bilateral ties.
A congressional panel on the U.S.-India Defense & Trade Partnership will include Senator Mark Warner, Co-Chair, U.S.-India Senate Caucus, Senator John Cornyn, Co-Chair, U.S.-India Senate Caucus, Congressman George Holding, Co-Chair, U.S.-India House Caucus and Congresswoman Tulsi Gabbard, Co-Chair, U.S.-India House Caucus. Ambassador Navtej Sarna, Indian Ambassador to the United States and Congressman Pete Sessions, Chairman, House Committee on Rules will deliver special remarks during the summit.