Bidisha Roy
NEW YORK CITY (TIP): Congress vice President Rahul Gandhi stated  that NRIS are the backbone of India and "original Congress movement was an NRI movement."
Addressing a gathering in a hotel in Times Square here on Sept 20 he said Mahatma Gandhi, Jawaharlal Nehru, B. R Ambedkar, Maulana Abul Kalam Azad, and Sardar Vallabhbhai Patel were all NRIs who "went to the outside world, saw the outside world, returned to India and used some of the ideas they had got and transformed India."
He also urged NRIs to contribute to resolving the economic and social challenges in India. "You need to get involved. You have tremendous knowledge, you have tremendous understanding, you work in different fields. I invite you to come and work with the Congress party and discuss the vision going forward. We want to take your help."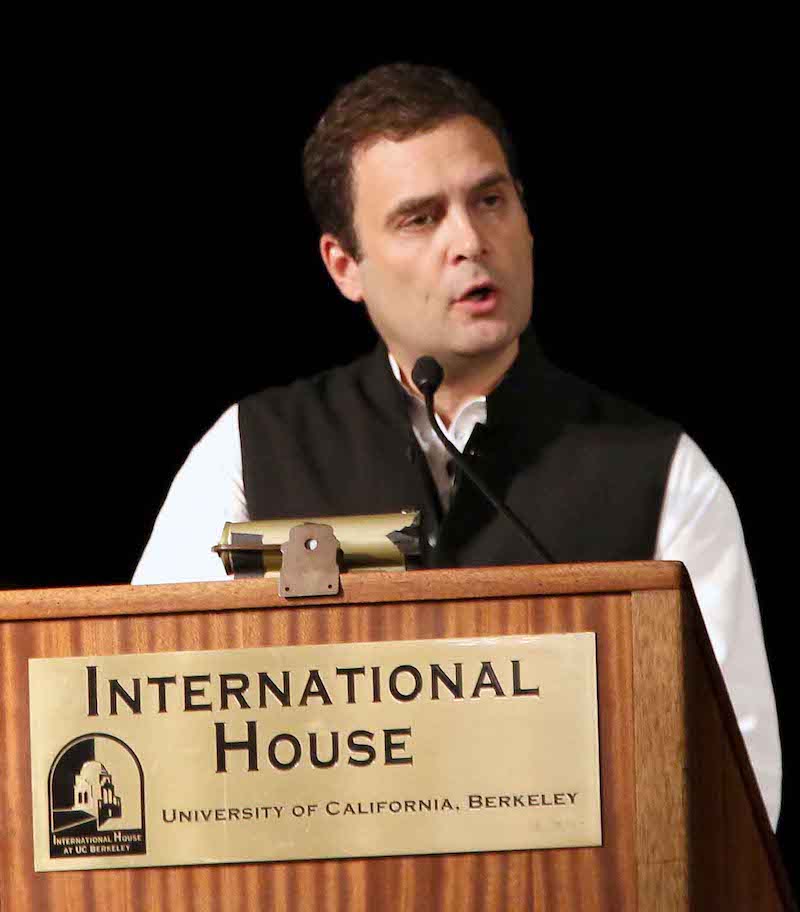 At one of his last events in two-week long US trip, Rahul Gandhi also criticized Modi government without mentioning any name for their 'Divisive Politics.' "Divisive politics is ruining India's reputation of  peace and harmony abroad. There are forces in our country that are dividing India and it is very dangerous, it ruins our reputation abroad. Divisive politics is going on and it has to be fought," he said.
Rahul Gandhi said he had met leaders from the Democratic and Republican Party over the past few days and was asked about the situation in the country. "Many, many people in the Democratic Party and the Republican Party asked me what is going on in your country. We always believed that your country worked together, we always believed your country was peaceful. What is going on in your country?"
He said many countries in a violent world were looking towards India as the "answer for peaceful coexistence. "So,  we cannot afford to lose our most powerful asset. Our most powerful asset is that 1.3 billion people live happily, non-violently, peacefully… This is something that as Congress people, every single one of us has to defend," he said.
Rahul Gandhi asserted that he would visit America, whenever he is asked to, and remain in touch with the community. His close aide Sam Pitroda, U.S.-based telecom expert who pioneered the telecom revolution in India and is in charge of the Indian Overseas Congress, said the organization's footprint was expected to expand to 30 countries from the present 18 and in every state in the US.
Earlier, on arrival in the US, Rahul Gandhi addressed students at the University of California, Berkeley, and, later, at Princeton. One of the striking features of Gandhi's interaction with students at Berkeley was his frank admission that a "certain amount of arrogance" had crept into the Congress midway through UPA II, and it had stopped having "conversations with people.
Post his lecture on 'India At 70: Reflections On The Path Forward', during a question-answer session, Gandhi took a question on dynastic politics, and said, "Most parties in India have that problem (dynastic politics). So, don't give us the stick… Akhilesh Yadav is a dynast. Stalin (Tamil Nadu) is a dynast. (Prem Kumar) Dhumal's son is a dynast… Even Abhishek Bachchan is a dynast. That is how India runs…don't get after me because that is how the entire country is running. By the way, last, I recall, Ambani's kids were running their business and that was also going on in Infosys. That is what happens in India."
At Princeton University,  the Congress leader said it was imperative for the Indian government to ensure blue-collar jobs for its people as nearly 30,000 youngsters are joining the job market every day and only 450 get the job. Gandhi appreciated one of PM Modi's flagship projects – 'Make in India' but said the scheme should be aimed at small and medium businesses. "Not many small and medium businesses are getting access to finance or to the legal system or the political system. The small companies that should be turning into large is not happening. If Make in India is implemented well, it is a powerful idea," he remarked.