Rajan Gangahar packs his film on PTSD with emotion and drama
A film on the life and experiences of EMS workers is shot in and around New York
Essentially a loner and a voracious reader, US-based director-writer Rajan Gangahar, has just finished filming "The First Responder", a short film in New York. Says Rajan," When the Producer approached me to make a film on the life of EMS members' life and experiences, I was not excited. To me, a film is about emotions not just visuals. I liked the perspective, but I wanted to add the most important dimension for a good film. Make it a human story, of a traumatic experience of the EMS worker". Rajan has earlier written and made a feature film, "Khushiyan" in Punjabi, one of the most popular languages in India and won the Best Writer award for the film at PIFA in Toronto, a global film award mega event. "The film was about human relations and founded on emotions," says Rajan.
Gangahar trained as an actor and worked in theater circuit in India for several years. "Stage performances offered a direct connect with the audience and helped me learn the value of touching the audience's heart. It was instant," he says while talking about his stage experience. Gangahar traveled with a theater group all across Canada and USA for his play. And the response was universal. It connected with the audience everywhere. "I was clear. Any form of creative work will connect and be successful if we can touch the heart".
Whether it is a debate on India or the USA, Gangahar always tends to lean on the freedom of expression. Political or intellectual or creative or even religious subjects are deliberated with same zeal keeping the backdrop of human behavior. The Post Traumatic Stress Disorder (PTSD) in any profession, including EMS, is essentially due to some or the other form of guilt, which may be haunting the sufferer. And then the patient enters the state of denial. Whether it is the guilt or fear of facing it again or inability to confess, the person keeps running away from reality.
Whether it is a play or story-screenplay-dialogues or directing, Gangahar has never tried to rush into anything in a quest to do a lot. It's not about lust of fame but the satisfaction of doing good quality creative work that drives the Gangahar. It's not about telling the family and world of friends about making a film but "telling" the story in the right manner on screen or stage or television that stimulates Gangahar.
"When the producer of "The First Responder" shared the subject of the film which he had conceived as a documentary on the life of EMS workers, I was clear, it is a universal subject. Most amongst us have dealt with EMS as volunteers or when we sought their service or when one or other member in our family worked with EMS. We all know the essence of the EMS duty. But what interested me was to adapt it for a fiction short film yet depicting the life and trauma of an EMS staffer," says Gangahar. And a short documentary was transformed into a docu-drama and then to a short film based on fiction, yet close to a real-life story.
"The hero or protagonist of my film has similar trauma. He is suffering every day as his experience haunts him. Days and nights. But he denies and even refuses to take professional help. It reaches an extreme when he can't even take assignment lest he fail again. He wants to pretend and show off machoism yet all around him observe his suffering. He even contemplates suicide," says Gangahar.
"A compassionate boss and a caring wife help him to take professional help. Finally, barriers are broken, and he hugs his wife in elevator while going back home after he completes the treatment," he adds.
"I have been studying cinema for quite some time. Learning from the West, I believe in doing complete homework. It is not about the scale of the subject or canvass. A detailed and thorough pre-production work helps," says Gangahar. With about 16 persons in crew and 10 actors, the unit was small. The creative team could focus on meaningful output especially keeping in mind the limited resources.
The filming has been completed in less than ten days while shooting all around in New York city. Gangahar expects to finish post-production work by end of August and then submit the film for festivals around the world.
  Interview with RAJAN GANGAHAR
 "Any story that deals with human emotions interests me"- Rajan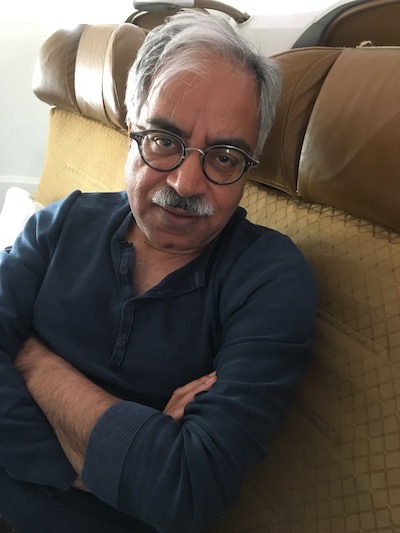 What attracted you to take on this project as a director?
I would say it was the subject. It is a story of EMT workers and their exposure to traumatic circumstances. We see EMT workers all the time and expect them to be first responders. In worst of the circumstances, constant exposure to these traumatic situations can lead to PTSD (Post-Traumatic Stress Disorder). This medical condition effects everyone around you, the family, friends, colleagues. Unfortunately, there is a macho culture and one considers a weakness to seek medical help. It is a story of When Helping Hurts.
Who wrote the story?
Ron Basci, a friend of mine, has written the script about an EMT worker and silently suffered from PTSD.
How did you select the cast and the crew?
Casting was a complicated process. The original casting call attracted more than 600 actors. The team brought it down to 30. Final auditioning went on for a week. All the hard work paid off and we were able to ensemble a cast of 9 — probably the best from theater and films.
How was the experience of working with an American unit including an American Producer? 
It was an enriching experience since I was able to share my experience and also adopt to local technical crew. At the end of the day we have been able to create a believable human story.
How is it different from making an Indian film?
Internet has created a flat world for every field including in the field of film making. Though some ground realities will always influence working environment like availability of low-cost labor in Indian film industry. And that translates to multiple resources always available on call. On the contrary, the crew in America is comparatively smaller but better trained in latest technologies, though the gap is diminishing.
You have been an actor yourself. Why did you not act in the film?
It is always tempting but I avoid the temptation, especially when as a director the performance of the whole cast needs your undivided attention.
How is a short film different from making a feature length film?
Any film less than 50 minutes is considered a short film. The difference is less time to establish characters and still engaging the audience from conflict to resolution. The future of entertainment as predicted by experts would be shorter films because of shorter attention span of the younger generation.
What is most important to you in making a film?
Film making is a field of director, DOP Editor Maintaining a single, clear vision through communication before the shoot is the key. Since they all are telling same story in different languages with their respective tools. It is imperative for all of them to have single clear vision. Artistically, I am of the opinion in creating believable characters is the key and I am fascinated by the process of characterization. Acting is doing consciously what we do unconsciously in real life. Recreating that behavior is what creates a great performance.
What kind of cinema do you like as a film maker?
Any story that deals with human emotions interests me.
Where do you see Indian cinema today and five years from now, especially with Netflix and Amazon redefining boundaries?
With the availability of internet, we human are no longer confined by physical and imaginary boundaries. We are more aware of other cultures, there history, there struggles and sufferings and curious to listen to stories beyond barriers of language and culture. Corporates like Amazon, Netflix, Apple are trying to ride that wave by creating single international platform for everything from screening films to making films.
Indian films have recently created history by making almost $300 million in China? What is the reason? Do you see similar possibilities for Indian cinema in USA?
The present times are probably the best of times for the Indian film industry. India is producing realistic and sensitive cinema and global audience including in US, China, UK is accepting it. An era of films with universal issues that strike a chord with both foreign and domestic audience has commenced. Rest is a numbers game.
Why are Indian Directors not making films in Hollywood? Even top Indian actors rarely do films in Hollywood. Why? Do you see this changing in near future?
No one can live in isolation. There is so much to learn from experiences of each other. Both industries were catering to their own kind of audience, but it is changing. Hollywood studios are experimenting with adding in Indian actors in significant roles. Initially to get wider audience but with time they would be doing it for talent. Future is, both industries working with each other or for each other and launching joint ventures.
In your view, is human interest story a universal subject? Can a film appeal to all or majority of audiences across the world?  
Yes, there is no doubt in that. Perfect example would be the play "Death of a Salesman" by Arthur Miller — a story of a middle-class family struggle in 1950. This play was translated and performed in every country and almost every language. So, yes emotions and feelings are universal, dressed in local cultures.
What is next for your short film? Do you see it appealing to all audiences across the world?
Yes, I am positive it will, emotions like music are universal.
What would you like to do next and in what capacity?
There are stories to be explored and told. I would love to remain a storyteller in any format — a film, a Play or a book… as a director, an actor or a writer.