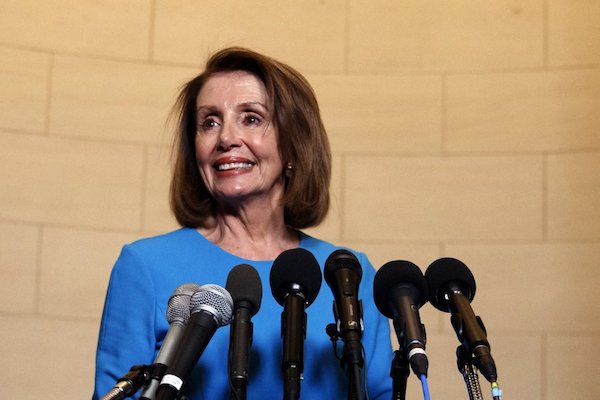 WASHINGTON(TIP): Nancy Pelosi won support from a majority of Democrats on Wednesday, November 28,  to be House speaker, marking an important milestone in her quest to lead the House when her party takes majority control of the chamber in January.
The Democratic caucus vote in favor of Pelosi, who served as the first woman speaker from 2007 to 2011, brings her a step closer to the gavel that many expect her to regain.
But becoming Madame Speaker might not be easy.
Though she ran uncontested, Democrats who oppose her have called for fresh leadership and a change in the "status quo."
Pelosi faces a final test in January when the full House votes on leadership.
To become speaker, she will need support from a majority of the full House – 218, if all members vote.
"Are there dissenters? Yes," Pelosi said after receiving her party's nomination. "But I expect to have a powerful vote as we go forward."
Once undecided midterm election results are called, Democrats could have as many as 235 members in the House, which would mean she could afford to lose 17 of their votes in January if all Republicans voted against her.
Some Democrats, however, could vote "present" instead of voting for either Pelosi or incoming Republican Leader Kevin McCarthy. That would lower the number of "yes" votes she needs.
In Wednesday's vote, 32 Democrats voted against her and three did not vote.
But Rep. Eric Swalwell, D-Calif., predicted the party will unify when voting publicly on the House floor in January.
"More people are coming off the 'Never Pelosi' letter than are going on it," Swalwell said of lawmakers who previously withheld their support. "I think the momentum is in her direction."
Rep. Elijah Cummings pleaded with Democratic holdouts to reconsider Pelosi's bid and seemed bewildered with the more than 30 members who voted against her.
"Here we are, a woman who has given her blood sweat and tears, who has sacrificed over and over and over again, who has had some of the most phenomenal accomplishments of any speaker to serve in the House," the Maryland Democrat said. "Then at a time when she has led us to have one of the greatest number of women that we've ever had, I would say to them, 'what do you want?'"
(Source: Agencies)