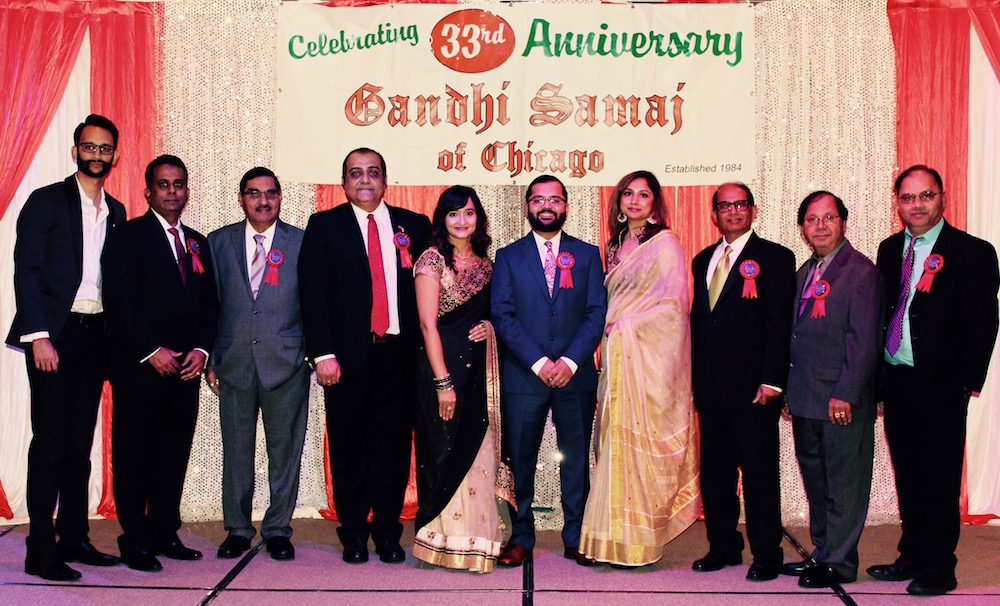 CHICAGO, IL (TIP): Gandhi Samaj of Chicago ("GSC") hosted its 33rd Anniversary at Waterford Banquet, 933 S Riverside Dr, Elmhurst, IL in celebration of 33rd Anniversary, led by Executive board of Gandhi Samaj. Attendance at event was house full over 700 people, along with their families and friends. Gandhi Samaj of Chicago includes over 320 "Gandhi" families, native of South Gujarat part of India (Surat to Vapi), from Chicago and its close vicinity.
The event started with social hour accompanied by Traditional Gujarati (Indian) Cuisine dinner, which was followed by a cultural program and open dance. This is a tradition observed by GSC for last 33 years, where families come together to celebrate and socialize and enjoy cultural program performed by members of all ages.
Dr. Anuja Gupta, CEO of Verandah Retirement Community, was invited as chief guest.  Community Service Awards were presented to Mr. Ashwin Gandhi and Mr. Hary Gandhi in honor of their active support in the community. The 2014-2015 committees were also presented with an award to recognize their service to the GSC community.  Educational Achievement Awards were also awarded, to those who pursued higher education.  Mr. Hitesh Gandhi will lead the Samaj as President over the next two years.
Cultural program touched everyone's hearts as imaginations of performers (from age 5 to 60) showcased their talents. Program started by a small Prayer followed with American & Indian National Anthems. The Kathak performance of Ganesh Vandana by Mansi Gandhi, Maya Ghayal, and Suhani Gandhi added a beautiful touch. The children and adults of Gandhi Community performed Classical and Bollywood Dance performances, songs, and showcased other talents. Group dance performance on "Luv Letter" and "Badri Ki Dulhania" songs became the highlight of the event when Roma Bhagat, Ami Gandhi, Riya Ghayal, Keyur Ghayal, Bhumika V. Gandhi, and Vimal Gandhi performed with high energy and brought everyone to their feet.
Some of the other highlights of evening included
Madhuri Medley family dance performed by Riya Ghayal, Keyur Ghayal, Maya Ghayal, and Milan Ghayal;
Mixed Bollywood dance performance by Tushar Modi, Gemini Modi, Krishna Gandhi, Dennis Gandhi, Nikita Gandhi, Minesh Gandhi, Freya Gandhi, Ashish Gandhi, and Bharat Ghayal;
Sun Sathiya dance performance by Risha Bhagat;
Shiva Tandav performed by Freya Gandhi, Misha Gandhi, Manya Gandhi, Riya Gandhi, and Krishna Gandhi;
Kheech Meri Photo song performed by Maya Ghayal, Milan Ghayal, Suhani Gandhi, Ishan Gandhi, Aashini Sheth, Keshav Sheth;
Kabhi Jo Badal Barse on Instrument by Isha Guard & Daksh Guard;
The event ended after 2.5 hours of continuous entertainment with astounding performances by various members of the Gandhi Samaj Community.  It was followed by open dance, where the members and community supporters were able to join the performers on the dance floor and dance the night away.
2019 Hitesh Gandhi will be president of Gandhi Samaj of Chicago. He has lots of feathers in his hat such as Executive Vice President of FIA, President of Adbhut Entertainment, Director of GOPIO, and Vice President of North Mount Prospect Home Owner Association. I am fortunate and privileged that I have the opportunity to serve various organizations and Asian Community. I am honored and grateful to GSC Board and members for their trust in me in heading the well-respected service oriented Gujarati organization in Chicago land area.  I would also like to thank all our volunteers, supporters and "Gandhi" families for their enthusiasm to support and promote our cultural, educational, social and community affairs.
"Gandhi Samaj of Chicago is proud of to make this magnificent event successful and thus keeping the Indian culture alive in the USA. Thanks to all the sponsors of the grand event without their support it would not be possible to have such a wonderful event also thanks to audience of Chicago and well-wishers who attended the event" Said by Mr Hitesh Gandhi, Exec Vice President of Gandhi Samaj.
A special mention goes out to the 2017 committee members of Gandhi Samaj of Chicago for a memorable evening full of wonderful memories, including Mr. Keyur Ghayal (President), Mr. Hitesh Gandhi (Executive Vice President), Mrs. Bhumika V. Gandhi (Vice President), Mr. Ashwin Bodalia (Treasurer), Mr. Manhar Gajjar (Secretary), Mrs. Roma Bhagat (Cultural Secretary), Mr. Bharat Ghayal, Ramesh Gandhi, Dipak Ghayal (Joint Secretaries) & Priya Ghayal, Hiren Ghayal (Youth Secretary).
(Photograph and Press release by: Asian Media USA)