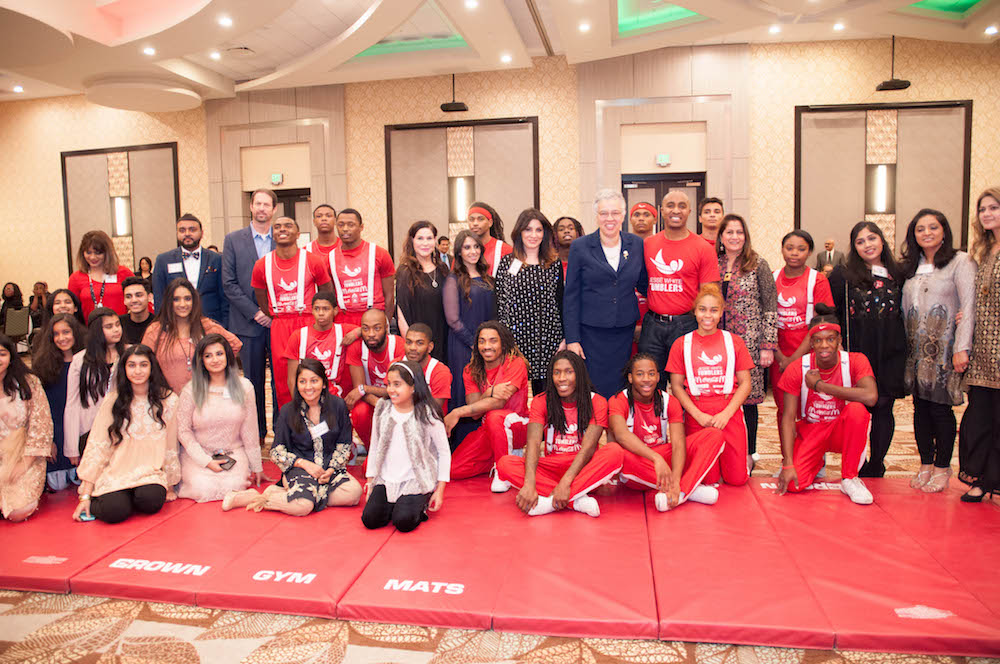 CHICAGO, IL (TIP): Suzy's Place held its First Winter Gala on Saturday, December 2nd at Pearl Banquets and Conference Center in Roselle, Illinois.
After a Capella performance of the national anthem, the evening kicked off with the high-energy acrobatics of the world-famous Jesse White Tumblers.  Their performance, set to intense music, revved up the crowd. The audience needed that strength, as the evening dealt with the very serious issue of domestic violence, and what it takes to fix it.   Suzy's Place was honored by the presence and thoughts of the two keynote speakers of the evening, the Hon. Judge Divya Sarang of Kane County and Dr Shastri Swaminathan, Chairman, Department of Psychiatry at Advocate Illinois Masonic Center. They talked effectively about the legal and medical/mental aspects of domestic violence. The law and mental health go hand in hand as Suzy's Place helps survivors through its shelter and services.
Shahida Khan, President of Suzy's Place, welcomed everyone. Arshia Hasnain, Executive Director of Suzy's Place introduced the organization's structure and presented the organization's activities. Member of the Advisory Board, Stephanie Pelzer, presented an artistic personal and emotional video collage of women helped by Suzy's Place.  She used her pencil sketches and art to tell their stories while respecting their privacy.  The audience was visibly moved.
There was a short fundraising session, including artwork, a football signed by Richard Dent of the Chicago Bears, and many colorful items at silent auction. Everything was donated, and everything went. The audience recognized that it took money to do what Suzy's Place did and they were generous.
The evening's entertainment was the well-known Bollywood singer Poonam Bhatia who mesmerized the audience with her vocal talents and reminded her fans of the importance of tackling the issue of domestic violence.
Several elected officials attended. Toni Preckwinkle, Cook County Board President, recognized domestic violence as a major problem and lauded the work of Suzy's Place and organizations like it.  Mayor Tim Baldermann of New Lenox reminded everyone that there needed to be a conversation on domestic violence at the local and community level.  Members of law enforcement were well-represented.  Chiefs of Police from multiple cities and senior executives of NOBLE were present and fully participated in the evening's activities.
Suzy's Place provides emergency and transitional housing, and services, to women survivors of domestic violence in Rogers Park in Chicago. It serves a very diverse community spanning ethnic, religious, socio-economic and cultural groups. Its shelter can accommodate 15 women at a time for up to 3 months. It provides emotional support and diversified continuum of services focused on safety, empowerment and self-sufficiency. Through community partnerships, it raises awareness, provides services and educates community members about domestic violence. Services include counseling, educational support, job skills training and job placement, basic health, language assistance, legal assistance, parenting and life-management skills, and wellness.
(Photograph and Press release by: Asian Media USA)