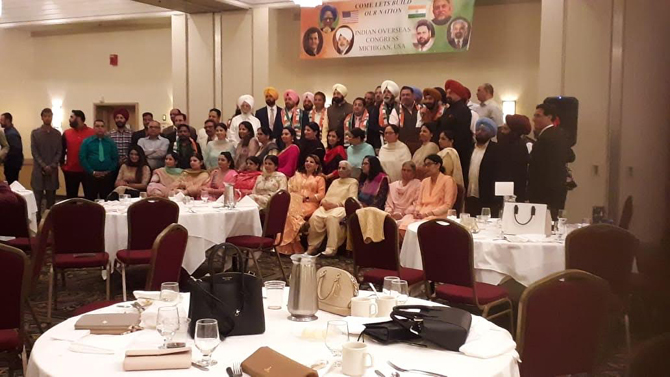 MICHIGAN (TIP):  In its continuing efforts to expand  IOC, USA offices throughout USA, IOC, USA opened a New Chapter in Michigan on Sat. June 22, 2019 and installed Mr. Rajwinder Singh Grewal as the Chapter President.  The installation ceremony took place in the Grand Plaza Hotel, Grand Rapids, where over two hundred member participants gathered to witness the installation ceremony of the President. Mr. Mohinder Singh Gilzian, President of IOC, USA   in New York came down to Michigan to install the Chapter president.
Mr. George Abraham, Vice Chairman and Mr. Harbachan Singh, Secretary-General of IOC, USA , who were unable to attend, welcomed Mr. Gerewal  and sent their congratulations and best wishes to Mr. Raj winder Singh Grewal and his team and looked forward for an active participation and interaction with the newly created Michigan Chapter going forward.
Mr. Mohinder Singh Gilzian also conveyed the greetings and blessings of Mr. Sam Pitroda, Chairman of the Indian Overseas Congress Department of All India Congress Committee in New Delhi to Mr. Rajwinder Singh Grewal  and stated that although Mr. Pitroda had  earlier indicated his intention to attend the function but  was, however,  now precluded from doing so due to a last minute schedule change.
Many of the Congress party officials, distinguished leaders, members, families and friends who not only came from the neighboring cities and states to grace the occasion, but also spoke at the function and praised the newly constituted team.  There was considerable enthusiasm noted from the new team and it was inevitable that the Chapter will be up to an active start.
In expressing great satisfaction and confidence in these appointments, Mr. Mohinder Singh Gilzian emphasized the need to work diligently, the NRIs to work on the phones with their families and friends to explain why it was necessary at this time to re strategize wisely and work even harder.    The failings, especially the lynchings  now prevailing in India was a cause of great concern to everyone  and shortcomings of the Modi government were well known.
Over a dozen prominent speakers took turn to pay tribute and compliment Mr. Grewal  and all the new appointees.  Mr. Grewal thanked Mr. Mohinder Singh Gilzian and everyone who had attended the ceremony and made a firm commitment to work hard and support the Party with all his might and capabilities.  Mr. Gerewal said that even though the Congress Party had not succeeded this time, he was highly optimistic that things will be totally different the next time around.
(Press Release)