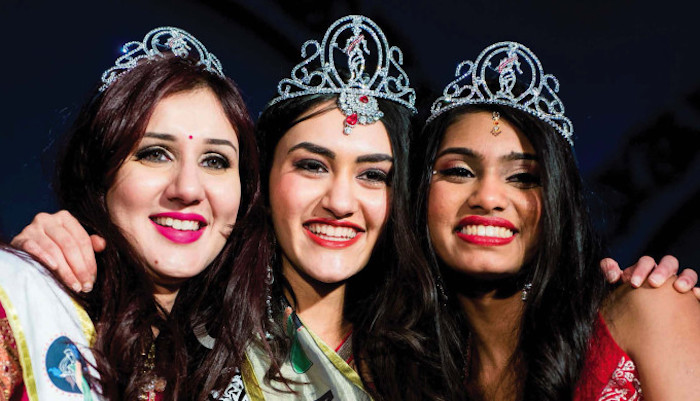 Karina Kohli of New York was crowned Miss India USA 2015 during a glittering beauty pageant held on December 6th at the Royal Albert's Palace, Fords, New Jersey. Karina, 18, is studying acting at New York University, was crowned by outgoing queen Pranathy Gangaraju. Karina will represent the USA in the 25th Annual Miss India Worldwide Pageant, to be held in New York, USA in September 2016.
Aanchal Shah from Florida was crowned Miss Teen India USA and Neha Multani Verma of New York was also crowned Mrs. India USA. Organized by the New Yorkbased IFC, headed by Dharmatma Saran, Founder and the Chief Organizer of the Pageant, the 24th annual pageant had a record number of 55 contestants from across the nation competed to win the coveted title this year.
Nandini Iyer, 27, of New Jersey and Visakha Sundar, 21, of Virginia, were respectively declared first and second runners up among 20 contestants from various parts of the country, in the gala event attended by over five hundred people. The other two five finalists were Karishma Malhotra from New York and Nicky Kandola from Virginia.
Aanchal, 16, from Florida, would like to become an oncologist. She was crowned Miss Teen India USA among 17 other contestants. The first runner up among the Teens was Akila Narayanan, 17, from Massachusetts and the second runner up was Rhea Manjrekar 16, from New York. The other two finalists were Manjari Parikh from New York and Shirin Bakre from Massachusetts. The subcontest winners in Teen section were – Manjari Parikh – Miss Talented, Aanchal Shah – Miss Congeniality, Akila Narayanan – Miss Social Media and Simran Kota – Miss Photogenic.
Neha Multani Verma, 29, is an executive with a large real estate corporation. The first runner up is Sheetal Kelkar, 36, from New Hampshire and the second runner up is Aradhana Thawani Padilla, 24, from Texas. The other two top five were Radhika Treon from Massachusetts and Protyusha DasNeogi from Washington State. The sub-contest winners in Mrs. Section were Chhavi Gupta – Mrs. Congeniality, Aradhana Thawani – Mrs. Photogenic and Pavana Gadde – Mrs. Social Media.
The pageant started with a stunning performance by all the contestants led by the outgoing queens Miss India USA – Pranathy Gangaraju, Miss Teen India USA – Riya Kaur and Mrs. India USA Namita Dodwadkar choreographed by Shilpa Jhurani.
All contestants presented their best in the Indian and the Evening Gown segment after which the top ten were selected. The top ten contestants from Miss section then amazed the audience with their talent which included Bollywood dances, Indian classical dances, contemporary dancing and singing. In the Miss section Nandini Iyer was awarded Miss Talented. Winners of the other various subcontests were: Miss Congeniality – Visakha Sundar, Miss Social Media – Nandini Iyer, Miss Photogenic – Akshaya Vijaykumar, Miss Bollywood Divya – Spoorthy Bharadwaj, Miss Catwalk – Ishpreet Gill, Miss Beautiful Hair – Aishwarya Balaji, Miss Beautiful Smile –Karishma Malhotra, Miss Popularity – Nandini Iyer, Miss Beautifu Eyes – Anita Ganesan, Miss Beautiful Skin – Piyali Nath. Trina Chakravarty, Roshi George, and Asma Molu were emcees and Nishi Bahl was the choreographer and was assisted by Shilpa Jhurani. The panel of judges included Raissa Nagapin – National Director of Miss India Guadelope, Chandra Mouli – Film Producer, Neetu Thomas – Fashion Designer, Subbu Sundaravelu – Director of SAP Managed Services at ProMorphics LLC and Ines Hernandez- Fashion Designer and Political Activist. Dharmangi Bhatia, CPA, was the official accountant.
The pageant, known around the world is not just for the sake of beauty and talent alone. True to its traditions, charity and supporting noble causes has been its hallmark since its inception. Dharmatma Saran, Chairman & Founder, presented an appreciation plaque to H. R. Shah , Albert Jasani, Nishi Bahl and Shilpa Jhurani for their support in organizing this year pageant. "I am very thankful to the Indian community for its support through the years," said Dharmatma Saran, "and especially thankful to H.R. Shah and Albert Jasani for supporting the pageant."