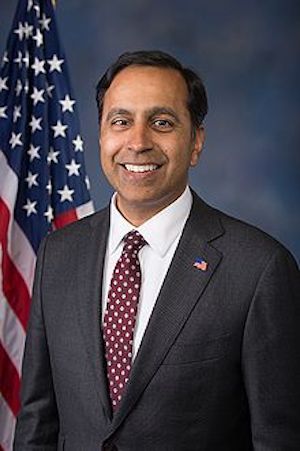 WASHINGTON(TIP): Indian American Congressman Raja Krishnamoorthi, representing Illinois' 8th District, heavily criticized President Donald Trump in response to new developments threatening the nation's and Illinois' economies as a result of the government shutdown predicated on President Trump's demand for a border wall that was supposed to be paid for by Mexico in the first place:
"President Trump is destabilizing and hobbling an already wobbly economy to fulfil only half of a campaign pledge he has made since 2015. After abandoning a bipartisan budget compromise the Senate passed last week unanimously, the President has shut down the federal government to appeal to a shrinking minority of Americans and right-wing talk show personalities. Instead of having Mexico pay for the border wall as the President has promised since 2015, he is asking for as much as $5 billion from taxpayers for a wall that will not accomplish its stated goal and which most Americans do not want.  The President stubbornly keeps pushing for a wall to protect himself from the far right's criticism. America needs enhanced border security using smart technology and border agents treated with respect by not being forced to work without pay during the Christmas holidays", he said.
Krishnamoorthi pledged President Trump to end the shutdown for the health and stability of nation's economy. "The stock market is in a record freefall, he is attacking the independence of the Federal Reserve, and Treasury Secretary Mnuchin called leading banks in an unsuccessful effort to stabilize the markets, all at a time when working families across the country are relying on a strong economy to start 2019. The Trump shutdown is a self-inflicted wound that puts our economy and these families in jeopardy and that damage will only grow worse if the President drags this shutdown out to January 3rd and into the new Congress."
He also feels that theshutdown will lead to thousands of Illinois workers being furloughed.
"Some 6,200 federal workers in Illinois are being furloughed or forced to work without pay over the Christmas holidays, and tours of the Lincoln Home in Springfield have stopped during the 200th birthday of the State of Illinois. The President needs to stop playing the role of the Grinch and start showing the American people he can fulfil his responsibilities as the Commander-in-Chief."