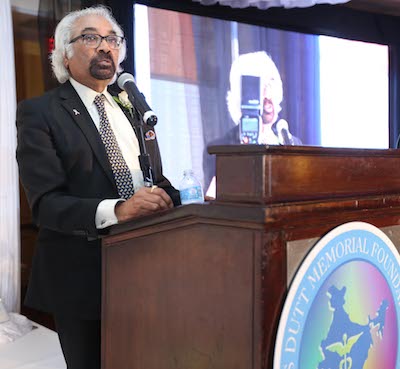 Over $175,000  raised  at the gala  for treatment of cancer for patients in India
UNIONDALE, NY(TIP): The Nargis Dutt Memorial Foundation (NDMF), hosted close to 400 people at the Marriott, Long Island for their 37th annual gala. The Gatsby themed gala was a prestigious event attended by community members, of Long Island, NY and New Jersey.
The foundation honored some pivotal members of the community and their philanthropic endeavors. The honorees include Dr. Urmilesh Arya, a pediatrician and fellow of the American College of Pediatrics;  Dr. Manjeet Baines, a highly regarded Thoracic Surgeon from MSK, and Professor of Surgery at Cornell University Medical College; Dr. Himanshu Pandya, president elect of AAPIQLI, and a medical director of a nursing home in Queens, Long Island;  Mr Kanak
Golia, President and CEO of Perfume Center of America;  Mr Sher Singh Madra, former president of NDMF and the owner and operator of BKM International Inc; and  Mr. George Tsunnis, Chairman of Board at NUMC and Chairman and CEO of Chartwell Hotels, LLC.
The foundation also recognized the late Dr. Shakir Mukhi, a former founding member of the Nargis Dutt Memorial Foundation. The Keynote speakers for the evening included Dr. Digpal Dharkar of the Indore Cancer Foundation and Hospital, and the highly respected telecom inventor, Mr. Sam Pitroda.  Both speakers delivered touching and informative speeches which moved the attending guests.
Sunil and Nargis Dutt's daughter, Priya Dutt, a former Member of Parliament ,  also made a very heartwarming speech about the foundation's ability to uphold her mother's vision. Priya said, her mother Nargis Dutt died of cancer in 1981 while at a hospital in the US. While undergoing treatment at MSK in New York, Priya says, "my mother used to tell my father, Sunil Dutt,  "Since you have money you have taken me to US for treatment, but what about poor people in India who suffer from the deadly disease?" Hence, the Nargis Dutt Foundation was formed for taking care of poor patients of cancer.
The highlight of the evening was a Gatsby inspired fashion show presented by Rana Noman Haq. The luxury fashion designer flew in from Lahore to be part of this notable event.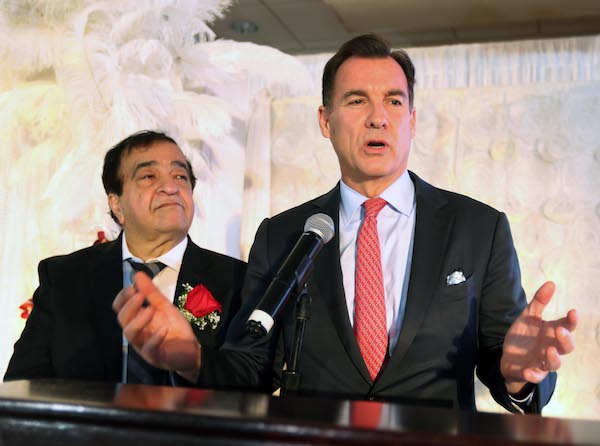 Some of the key guests of the evening included: Mr. Thomas Suozzi – member of the House of Representatives and former Nassau County Executive – who presented Mr. Andy Mansukhani  a citation honoring NDMF. Mr. Curtis – founder of the Guardian Angles and Chairman of the NYS Reform party and his wife Mrs. Nancy Sliwa – who is currently running for NYS Attorney General, and  Megan Ryan – Executive Vice President and General Counsel at NUMC.
About Nargis Dutt Memorial Foundation
Nargis Dutt Memorial Foundation was established in 1981 in memory of Nargis Dutt, a famous Bollywood movie star of India. She gave numerous memorable performances in movies including Mother India, which was nominated for an Oscar in 1957. She was a very caring human being whose dream was to see that the best available medical care could also be provided to under privileged and needy people.
While undergoing specialized medical treatment in New York for cancer, Mrs. Dutt articulated her dream and repeatedly expressed her regret that the medical care that she was able to receive was unavailable in her Motherland. Her deep concern for the sick and disabled led her to set definite goals towards making improved medical services available to the poorest in India.
She already had considerable work to her credit in rehabilitation, and education of handicapped children in India.
Unfortunately, she did not live long enough to see the evolution of her dream. After her demise, her husband Sunil Dutt, who recently passed away, established The Nargis Dutt Memorial Foundation through various chapters in USA, UK, Canada, Germany and Holland to keep Nargis's dream alive.
For more information, please visit  http://www.nargisduttny.org
(Press Release by Rohini Singh)