WASHINGTON (TIP): Indian Americans Dipal Doshi, Sachin Jain and Rupal Patel were among 21 healthcare leaders named to the second annual Aspen Institute Health Innovators Fellowship.The institute announced the Fellows in a July 12 statement.
The Fellows will participate in a two-year Fellowship designed to strengthen the leadership of innovators across the U.S. healthcare ecosystem and challenge them to create new approaches that will improve the health and well-being of all Americans, Aspen Institute said in a news release.
The Fellows come from various industries and sectors throughout the country, including medicine, pharmaceuticals, public health, biotechnology, insurance, mental health, government, venture capital and genomics, among others.
"I am delighted to welcome this talented and inspiring group of healthcare leaders with a track record of accomplishments and the potential for even greater contributions in the future," said fellowship managing director Rima Cohen in a statement. "The Fellows bring a diverse set of life experiences and skills to their work; we're thrilled to be able to give them a platform from which they can harness their energy and expertise to tackle our nation's most pressing health care challenges."
Doshi is the chief business officer at Princeton, N.J.-based Amicus Therapeutics Inc. He also serves as the general manager of Scioderm, Inc., a rare disease company Amicus acquired in 2015.
Prior to joining Amicus, Doshi founded RStreet Advisors, a healthcare consulting firm through which he advised pharmaceutical, biotech and diagnostics companies on business development, corporate strategy and market and commercial planning.
From 2008 to 2013, Dipal was the senior vice president and member of the management team  Auvenat Therapeutics, a global private equity and bio-pharmaceutical development company. He received a B.A. from Rutgers University and an M.B.A. from The Wharton School of Business at the University of Pennsylvania.
Jain is the chief executive officer of Los Angeles-based CareMore Health System, an innovative health plan and care delivery system with $1.2 billion in revenue and over 100,000 members in eight states.
He is also a consulting professor of medicine at the Stanford University School of Medicine and a contributor at Forbes.
Jain was previously CareMore's chief medical officer and chief operating officer. Prior to joining CareMore, Jain was chief medical information and innovation officer at Merck & Co. He also served as an attending physician at the Boston VA-Boston Medical Center and was on faculty at Harvard Medical School and Harvard Business School.
Additionally, from 2009 to 2011, Jain worked in the Obama administration, where he was senior adviser to Donald Berwick when he led the Centers for Medicare and Medicaid Services.
He was the first deputy director for policy and programs at the Center for Medicare and Medicaid Innovation, and he was special assistant to David Blumenthal when he was the National Coordinator for Health Information Technology.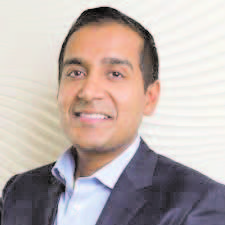 Jain graduated from Harvard College with a bachelor's degree in government and earned his M.D. from Harvard Medical School and M.B.A. from Harvard Business School.
Patel is the founder and president of Boston, Mass.-based VocaliD Inc., a speech technology company that creates custom voices for text-to-speech applications, leveraging its crowdsourced Human Voicebank (See India-West's profile here: http://bit.ly/2agVQhR.) VocaliD's award-winning technology has been featured on TED and NPR and in leading news and technology outlets such as The Wall Street Journal, Wired, Bloomberg and BuzzFeed.
She is currently on leave from Northeastern University where she is a tenured professor in the College of Computer and Information Science and the Department of Communication Sciences and Disorders. Her research focuses on speech motor control in healthy talkers and those with neuromotor speech impairment.
Patel also holds appointments in the Harvard/MIT Speech and Hearing Biosciences and Technology program, the Department of Psychiatry at University of Massachusetts, and Haskins Laboratory at Yale University.
She earned her bachelor's degree from the University of Calgary, her master's and doctorate degrees from the University of Toronto and she completed her post-doctoral training at MIT.
The Health Innovator Fellows will spend four weeks over the course of two years exploring their leadership, core values, desired legacies and their vision for the healthcare system.
Each Fellow commits to launching a leadership venture that will stretch and challenge them and have a positive impact on health care in the U.S. The Health Innovator Fellows join more than 2,200 other entrepreneurial leaders from 49 countries to become members of the Aspen Global Leadership Network.