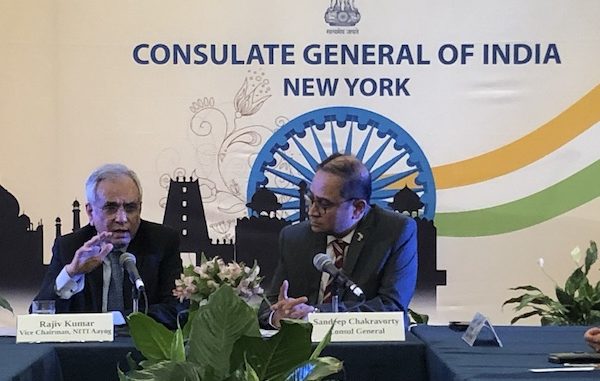 Bidisha Roy
NEW YORK(TIP): In its first five years, the Modi government has done the foundational work for India's targeted growth, and now it's time to focus on accelerate the growth – which must be led by private sector, says Dr. Rajiv Kumar, Vice-Chairman, NITI Aayog.
Addressing a gathering at the 'India Investment Seminar' organized by the Indian Consulate at New York, July 17,  Dr. Rajiv Kumar spoke on India's Investment scenario and economic reforms and interacted with New York's Investment Community.
In his welcome note, Consul General Ambassador Sandeep Chakravorty gave a brief summary of accomplishments of Dr Kumar who took over as Vice Chairman NITI Aayog in the rank and status of a Cabinet Minister, on 1 September 2017.
Highlighting the reform measures introduced in the recent budget, Dr Kumar said that there are more than a dozen provisions in the budget to encourage the private sector to lead India's growth and it's time to make space for them and give the private sectormore incentive.
 "The intention and the sharp focus of the Modi government is very clear and it is that private enterprise must be given the space, the incentives to play its role in the economy. The government has no intention at all to try and be the main driver of growth in the country because it is not possible," he said. "The next five years, India is going to be at the cusp of a major transformation and if we succeed, as this government is wanting to, you will see a decade plus more of sustained high growth which will be undertaken with inclusion but also with sustainability," he further added.
Dr Kumar acknowledged that there is still space for bolder reforms like changing the mindset. Noting that agriculture needs corporate investment, as there have hardly been any investments in that sector, but for that structural reforms are essential, he pointed out. Focus is also being given for major transformation in the mining, oil and natural gas sectors, electric mobility sectors, textile and leather, as well as 'sunshine' industry like tourism, he added.
During a Q&A session, answering a question by Prof Indrajit S Saluja, Chief Editor of The Indian Panorama about water scarcity in different states, Dr Kumar said the water index, introduced by NITI Aayog, has raised the alarm. He said the problem and its solution both are associated with agriculture. At the moment about 90 percent of the water is consumed by agriculture, he said. The agriculture has to be more water efficient and if there is a shift to horticulture, water could be freed up for other uses, he suggested.
 Later, in a brief interview with The Indian Panorama, Dr Kumar answered a few questions from Chief Editor Prof Indrajit S Saluja.
As in charge of policy planning in India, what would be your top priority? I am not talking about the government, what would be your top priority?
Ans. My top priority would be two – one is agricultural transformation and I stick by that. The other one is to eliminate mal nourishment. Our children and our women – 38% of our children are mal nourished – it's a shame. Fifteen percent of our women are anemic.  If we can't change that, we are not going anywhere at all. And the third would be water. If I can solve these three, I would die as a satisfied person. I just headed a committee called the North East Water Management Authority. They did a very good job; we have to implement that. It would solve the Brahmaputra problem at least.
   2. When it comes to human beings, what kind of quality of life do you think you would be able to provide for people of India under your supervisory capacity as chief planner of India?
Ans. I am not a planner. I gave up planning. I am just a thinker. Our problem is much bigger than quality of life. You know if I can tackle,  get people sufficient amount of potable good water and a clean environment, if I can get them quality education and health – that in the five years I am not promising. But the beginning is being made. Those are the areas we want to work on. For that (We need) domestic private investment. FDI contributes no more than 3 to 4 percent in our total investment. We have to depend on domestic investment and domestic investors.