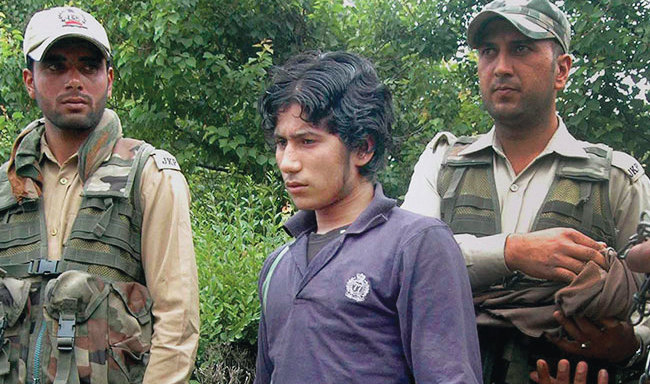 SRINAGAR (TIP): Four men have been arrested for yesterday's firing in a Srinagar hospital that enabled Pakistani terrorist Naveed Jutt to escape from police custody. The police said they have tracked down on the motorcycle and the vehicle they had used for the getaway.
The escape of 22-year-old Jutt when he was taken to the hospital for a routine check-up with five other prisoners, has been put down to a detailed conspiracy.
The superintendent of Rainawari Central Jail has been suspended, Jammu and Kashmir home secretary said.
Gunshots rang out in the Shri Maharaja Hari Singh Hospital yesterday, when the prisoners were brought into the Out Patients' Department. Two policemen accompanying the prisoners collapsed. One died on the spot, the other in the hospital. In the confusion, Jutt managed to escape with the pheran-clad men, who had come on a motorbike.
Naveed Jutt, 22, has been at the jail since 2016, since his arrest two years before. Senior police officers said he managed to get a court order to stay in a Srinagar jail even though all Pakistani terrorists are lodged outside Kashmir.
His escape, said state police chief SP Vaid, had been carefully planned with active collaboration from inside the jail.
The police had prior information about Lashkar activities inside the jail.
Naveed Jutt was known to be close to Abu Qasim, who headed Lashkar-e-Taiba in Kashmir and was killed by security forces in 2015. He is also close to Zaki ur Rehman Lakhvi, one of the masterminds of 26/11 terror attack in Mumbai.
The police said Naveed Jutt was involved in several terror attacks in Kashmir, including one in which a teacher on election duty was killed. He is also believed to be behind the killing of at least seven policemen. Source: NDTV