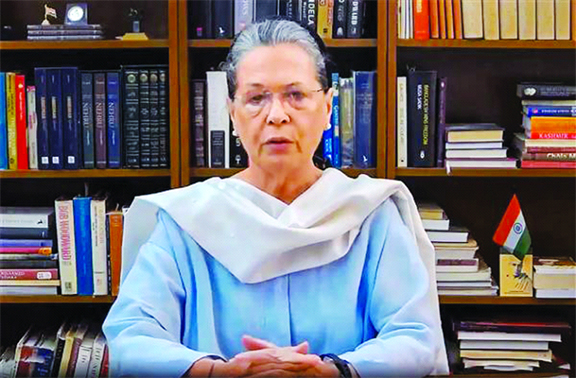 New Delhi (TIP): Congress president Sonia Gandhi on Thursday, Jan 7, attacked the Modi government over the ongoing farmer agitation and the hike in fuel prices, and said the country was today standing at the crossroads for the first time since Independence.
On the hike in fuel prices, she accused the government of profiteering and said it is turning a disaster into an opportunity to fill its coffers.
She also alleged that the government was breaking the back of the poor, the farmers, and the middle class due to its "insensitivity".
"I demand from the government that the rates of excise duty on petrol and diesel be made similar to that during the UPA regime and provide immediate relief to the affected people. I once again appeal to the government to repeal the three farm laws immediately and fulfil all the demands of farmers," she said in a statement.
Congress leader Rahul Gandhi also accused the government of "looting" the people by imposing heavy taxes on fuel and alleged that that was the reason it was not bringing them under the purview of the Goods and Services Tax (GST).
"There has been unprecedented 'development' in prices of petrol and diesel. The Modi government is looting the public by charging heavy taxes on fuel. This is the reason why the government is not willing to bring petrol-diesel under GST," he said in a tweet in Hindi.
Sonia Gandhi said in the midst of a collapsing economy due to the coronavirus pandemic, the Modi government was trying to turn the disaster as an opportunity to fill its coffers.
She said while the price of crude oil was USD 50.96 per barrel — just Rs 23.43 per litre internationally — diesel is being sold for Rs 74.38 and petrol at Rs 84.20 per litre in the national capital.
This was the highest in the last 73 years, she alleged.