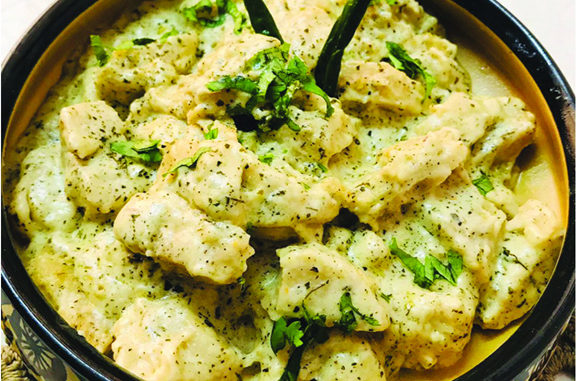 By Tript Arora
Soyabean is enriched with protein and various health benefits and is great in taste too. Soya chaap is a very popular  vegetarian dish known for its meaty flavour and exotic taste. It is a vegetarian dish at Punjabi weddings and parties. Though a variety of dishes are made with Soya chaap, malai soya chaap rules the menu as it is rich in taste and is prepared like other tikkas. If you are a fan of tikkas this will for sure tickle your taste buds. Soya chaap is made with soybean flour but many manufacturers use all purpose flour to bind the dough. So read the label carefully before buying it as it always is not gluten free. The dough is wrapped on wooden sticks and before making any soya dish these are removed first.Then cut them into bite size pieces and wash them with water. After that tikkas are marinated for 30 to 45 minutes in spices and curd. Later they are cooked for 5 to 10 minutes with cashew paste . Lastly as the name suggests Malai or cream is added to it. You can serve it with rotis, rumali rotis , naan and paranthas. If you have never tasted it, make it once and it will be on your regular menu.
We Need
500 gm Soya Chaap, 100 gm Thick Curd. ( Not Sour), 2 Tbsp Cashew Paste, 5 Tbsp Cream, 1 Green Cardamom, 2 Cloves, 2 Green Chillies, 2 Tbsp Dried fenugreek leaves, 1 Tsp Black Pepper, 1 Lemon, 2″ Piece of Ginger, 1 Tbsp finely chopped Garlic, 2 Tbsp Cooking Oil, 2 Tbsp Yellow Butter, 1 Tsp Salt or to taste
Here We go
n Remove Sticks from Soya Chaap by pulling them. These are easy to remove.
n Cut them into pieces and immerse them in water for 2 minutes only. This will help in removing extra flour from them. Stain them in a sieve and keep aside for 5 minutes to remove extra water.
n Grind together green chillies, ginger, green cardamom and cloves. Add little water if required to make a paste.
n For marination,  add this paste, thick curd, lemon juice , black pepper powder , fenugreek leaves ( kasoori methi) , salt and lemon juice in a bowl. Mix everything together. Add soya chaap pieces to the marinade. Make sure to coat every piece with marinade. Set aside for 30 minutes.
n Heat a pan. Add butter & oil to it. Add chopped garlic. Saute till light pink. Add marinated chaaps to it. Mix Chaap well with butter and garlic. Cover the pan and let it simmer for 5 min on low flame. Don't forget to turn them in between to avoid burning.
n As soya chaap are very soft, they will be done in 5 minutes. Now add cashew nut paste and saute for another 2 minutes. You can add a little water if you want to adjust the consistency.
n Add cream and cover the pan for 2 to 3 minutes or till you see some oil on the surface.
n Take out in a bowl and serve hot with chapati, naan, paratha or rumali roti according to your choice.
Preparation Time : 10 minutes.
Marination Time: 30 minutes
Cooking Time : 15 minutes.
Tips
Use fresh and thick curd for marination. Curd shouldn't be sour.
To avoid burning butter, add it after adding oil in the pan.