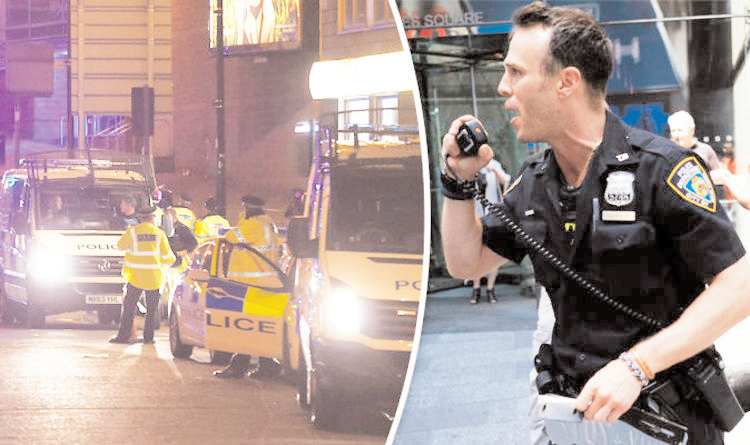 LONDON (TIP): British police are rushing to uncover a possible terror network thought to have helped Manchester Arena bomber Salman Abedi in the attack on the Ariana Grande concert on Monday.
Greater Manchester Police say two men were arrested overnight Thursday in Manchester and in the Withington area south of the city. Officers also raided a property in the city's Moss Side neighborhood early on Thursday and carried out a controlled explosion.
Eight men have now been detained in Britain in connection with Monday's attack. One of those arrested includes Abedi's brother Ismail.
Abedi's relatives under the lens
A further two people were arrested in Libya, taking the total number of people in custody in connection with the bombing worldwide to 10.
Abedi's father, Ramadan Abedi, and brother, Hashim, are the two arrests in Libya. The anti-terror force that took Hashim Abedi into custody in Libya said the teenager had confessed that both he and his brother,
Salman, were members of the Islamic State (ISIS) group and that he "knew all the details" of the Manchester attack plot.
'Intelligence must remain secure,' angry May tells US
The British government has expressed its anger at the release in US media of details from the investigation into Monday's concert attack, including photographs of parts of the bomb.
"We have a special relationship with the USA. It's our deepest defense and security partnership that we have and it is built on trust, and part of that trust is knowing that intelligence can be shared confidently. I will be making clear to President Trump today that intelligence shared between law enforcement agencies must remain secure," Prime Minister Theresa May said in a terse warning to the US.
Britain to withhold intelligence reports from US
The fall out of the leaks is that the British police have stopped sharing information on the suicide bombing in Manchester with the United States, citing the intelligence leaks in the US media risked hindering their investigation.
The decision to stop sharing police information with US agencies was an extraordinary step as Britain sees the United States as its closest ally on security and intelligence.
"This is until such time as we have assurances that no further unauthorised disclosures will occur," a counter-terrorism source told Reuters.
Britain threat level 'critical', another attack imminent
British Prime Minister Theresa May also said progress is being made in the Manchester bombing investigation but the national threat level remains critical, meaning another attack may be imminent. As many as 1,000 Army troops have already been deployed to boost security operations.
An incident reported in the Hulme area of Manchester caused a brief period of alarm before authorities gave the all clear. Police officers and army personnel had rushed to a street in Hulme after a 'suspicious package' was discovered there.
Police discovers bomb-making workshop
Manchester's police chief said that Salman Abedi was part of a terror network and they're hunting for a possible bomb-maker after the 22-year-old attacker detonated a sophisticated device at a concert venue packed with children on Monday night.
Various media outlets reported that police had found a kind of bomb-making workshop in Abedi's home and he had apparently stockpiled enough chemicals to make additional bombs. Some also reported bomb making materials which could be primed for imminent attacks had been found in the raids following the Manchester bombing. Abedi's father has denied that his son was part of any such terror network.
'He wanted revenge,' says attacker's sister
Media reports cited a family friend saying that Salman Abedi had travelled to Libya with his father in 2011 to join the Tripoli Brigade militia as it battled the regime of Libyan dictator Muammar Gaddafi. His father too had been a militia member before he'd decided to flee the country when an arrest warrant was issued against him.
Abedi's sister said that her brother may have sought revenge for the deaths of Muslim children. "I think he saw children — Muslim children — dying everywhere, and wanted revenge. He saw the explosives America drops on children in Syria, and he wanted revenge," Jomana Abedi is quoted as saying in an AFP report.
Abedi wasn't on any international watch list: Report 
A German magazine reports that Salman Abedi, the Manchester concert bomber, passed through Duesseldorf airport four days before the attack. Citing unnamed federal security sources, the report says that the British-born Abedi twice flew from a German airport in recent years and wasn't on any international watch list.
German authorities are now trying to determine whether Abedi had contact with Islamic extremists in Germany before flying to Manchester last week, the magazine said. It also reports that British police informed their German counterparts Abedi had received paramilitary training in Syria.
Donald Trumps cracks down on intelligence leaks
President Donald Trump on Thursday described US intelligence leaks over the Manchester bombing as "deeply troubling" and threatened to prosecute those responsible. "There is no relationship we cherish more than the special relationship between the United States and the United Kingdom," the US President said in a statement released by the White House.
He said he has asked the Justice Department and other agencies to "launch a complete review of this matter."
Queen visits attack victims, Britain pays tribute to the fallen
Queen Elizabeth II visited Royal Manchester Children's Hospital to meet those injured in the Manchester Arena blast and the medical staff treating them. Twelve children under the age of 16 were taken to the hospital by ambulance following Monday night's attack.
Earlier on Thursday, at 11am, many across Britain fell silent and bowed their heads for a minute in tribute to the victims caught up in Monday night's concert bombing. Crowds gathered at well-known sites including London's Parliament and Trafalgar Squares and Manchester's Albert Square. (TOI)